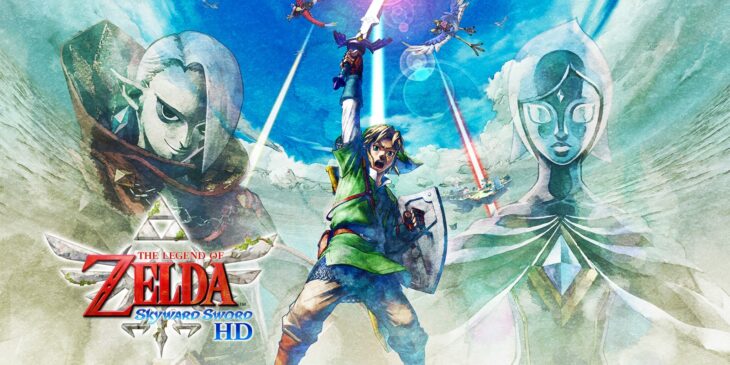 This week Nintendo's latest remaster port to the Switch, The Legend of Zelda: Skyward Sword HD, has been the best-selling game in the UK.
This is, surprisingly, only the fourth time that a Legend of Zelda game has managed to claim the top spot. The Legend of Zelda: Link's Awakening for the Switch did it in 2019, Wind Waker managed to do it on the GameCube in 2003, and Ocarina of Time also did so in 1998 on the N64. Ocarina of Time was also a Christmas number one.
Launch sales for Skyward Sword HD are ever so slightly better than those of 2019's Link's Awakening, up 1.3 percent. Link's Awakening launched alongside the Switch Lite, the handheld-only version of the Switch, and had the advantage of releasing at a time when game sales are generally higher, September. However, it's also worth bearing in mind that since 2019, the install base for the Nintendo Switch has increased massively, which may have contributed to these increased sales.
Boxed sales for Skyward Sword HD were 9 percent lower than the game's original 2011 launch on the Nintendo Wii. However, digital sales aren't included here, and the Wii didn't give players the option to buy the game digitally at all. Therefore, it's easy to surmise that the HD remake has sold far better than the original release.
Skyward Sword also arrived on the Wii at a time when the Wii U was on the horizon, and sales for Wii games were declining as the console reached the end of its life cycle.
The second new release for this week, F1 2021, reached second place. It seems like a slow start for the latest title from Codemasters, with boxed sales down 30 percent on last year's entry. However, the F1 season has only really just kicked off, so there's a chance for better sales to come.
30 percent of all sales of F1 2021 were for Xbox,34 percent for PS4, and 32 percent for PS5.
Finally, Ratchet and Clank: Rift Apart saw an 80 percent sales drop as PS5 stock slowed once again. Monster Hunter Stories 2: Wings of Ruin also saw a sales fall by 68 percent, dropping out of the top ten.
The top ten best-selling games for the week ending July 17, 2021, in the UK were as follows