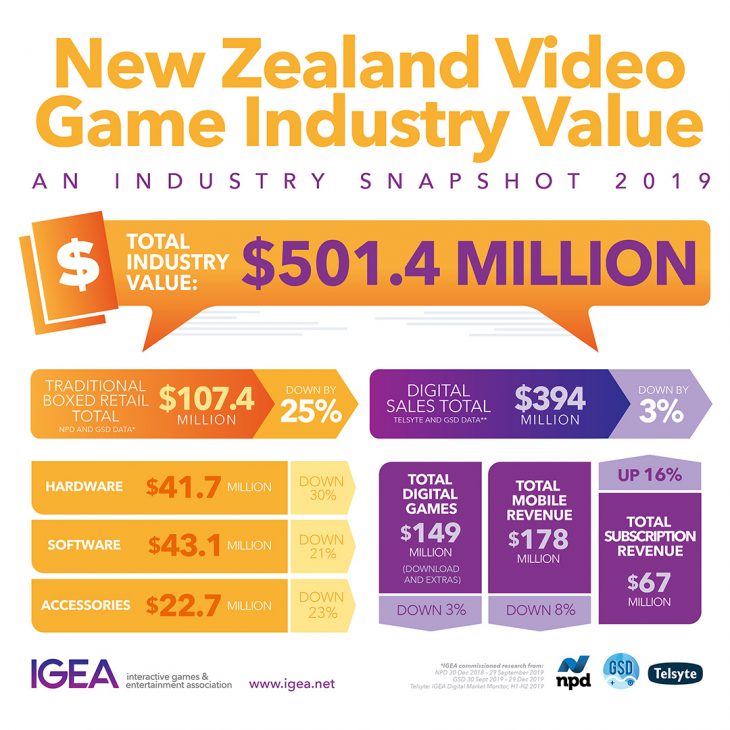 According to recent data, video game sales in New Zealand dropped for the first time in 2019 since 2012. This data comes from the Interactive Games and Entertainment Association.
The total value of the games industry in New Zealand last year was NZ $501 million. Every sector, apart from subscriptions, saw a decline over the year.
Retail revenue was down by 25 percent at NZ $107 million. Hardware specifically fell to NZ $41.7 million, a drop of 31 percent, and software fell to NZ $43.1 million, a decline of 21 percent year-on-year.
While the retail segment took quite a hard blow, the digital segment saw a much smaller decline. The segment generated revenue of NA $394 million, a drop of just 3 percent year-on-year. This shows that the digital segment is much more versatile, and survives the end of console generation cycles far better than the retail sector does.
Overall, the games industry for the country dropped by 9 percent year-on-year, which is in line with what other countries have seen around the world. The blow is also softened somewhat by the fact that 2018 was an incredibly lucrative year for the industry. Ron Curry, CEO of IGEA, said that 2018 was a tough act to follow.
This decline is expected with the close of one console generation, and the start of a new one planned towards the end of 2020. With the additional growth that the industry saw, 11 percent between 2017 and 2019, IGEA expects to see a rebound in 2020 with the launch of the next console generation.
Curry explained that New Zealanders continue to embrace games in many forms, despite the decline seen in 2019. He added that the first half of 2020 in particular has shown how important games are when it comes to connecting with others, learning, and simply engaging as a community.
Curry believes that the next console generation launches will level out the decline, resulting in the industry maintaining a flat level of growth, leading to inclines in later years once the new generation has settled.