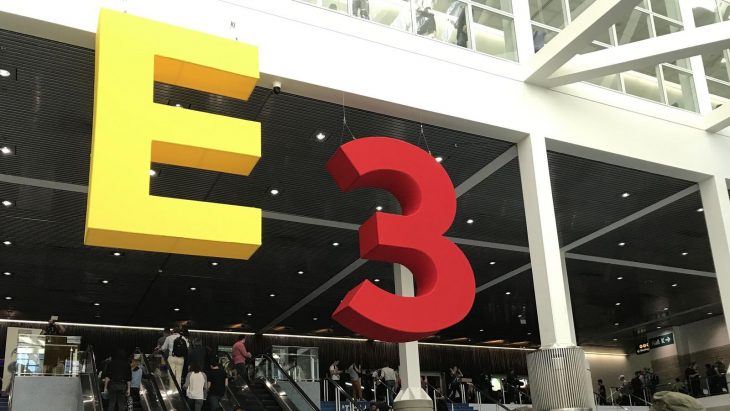 This year's E3 was almost the biggest and most attended it has ever been, showing that video games are far from losing momentum. A number of the platform holders and publishers that held press conferences in the lead up to the event made some big announcements on the day. Here's a roundup of the biggest games that were announced at E3 2018.

The Elder Scrolls 6
Publisher: Bethesda
Release date: 2020
The Bethesda press conference was probably one of the best at E3 2018. Fallout 76 would have been the biggest announcement if it hadn't been revealed a few days before. Right at the end of their conference Todd Howard gave everyone a sneak peak at the game everyone has been asking for from Bethesda since Skyrim released, The Elder Scrolls 6. The trailer have nothing away but the name, with landscape that could be a number of places in the Elder Scrolls universe. Many fans and press sites have begun speculating, with the most logical option for the game's location and name being Hammerfell.

Resident Evil 2 Remake
Publisher: Capcom
Release date: January 25, 2019
Sony's press conference is currently outshined by the controversy surrounding the platform holder and their views on cross platform gaming, with Fortnite in particular. However, they also announced a total remake of Playstation 1 classic Resident Evil 2. Many of the Resident Evil originals have been remade for modern consoles, but Resident Evil 2 and 3 have escaped this treatment until now. The remake changes the camera angle to over the shoulder, making it far more accessible, but aims to retain the horror and fear it inspired with subtle changes to the environment and enemy placement so that even old hats of the game will be unnerved.

Sekiro: Shadows Die Twice
Publisher: Activision
Release date: 2019
Surprisingly From Software used the Microsoft press conference for their latest game to be announced, though it will be released for Xbox One, Playstation 4, and PC. The game takes place the Sengoku-period in Japan, starring a Samurai with a mechanical arm. The game differs from other From Software games in that it's far more action oriented, in a similar way to Nioh, and the death mechanic works in a way never seen in their games before.

Death Stranding
Publisher: Activision
Release date: 2019
Death Stranding was announced a while ago and has been in development for some time, but this year was the first time ever that actual gameplay footage was shown. Sony revealed this gameplay trailer, detailing a brand new world to explore with deliveries to make over multiple characters. Small details such as the fact that the enemies cause accelerated aging were revealed, but director Hideo Kojima told fans that there were answers to more of their burning questions hidden in the trailer somewhere.

Unravel Two
Publisher: EA Games
Release date: June 9, 2018
The first Unravel was part of the EA Originals program, and Unravel Two is no different. EA announced and released the game during their press conference, kicking the event off with not only a great new game, but a great new game that everybody could play immediately. Gameplay is the same as the first title, but now there are two characters to control, one of which can be controlled by another player.

Just Cause 4
Publisher: Square Enix
Release date: December 4, 2018
Just Cause 4 was a very big deal at this year's E3. The game takes protagonist Rico to a brand new open world to explore and rip apart in all manner of different ways, taking on the most lethal enemy yet, The Black Hand. The gameplay trailer showed massive destruction caused by new weather elements in the series, a colossal tornado example, which will play heavily in the game's mechanics.

Devil May Cry 5
Publisher: Capcom
Release date: 2019
Fans have been asking for a new Devil May Cry game for years, but there's a big divide between those who wanted Devil May Cry 5 and those who want a DMC sequel. It seems like this year the former party won, and the series will continue with a great-looking new title in the completely mad series of demon slaying games.

Gears 5
Publisher: Microsoft
Release date: 2019
Microsoft didn't take long to get around to showing a new Gears of War game. And it's called Gears 5, rather than Gears of War 5. This one takes the series north, to where the Emergence began and how this world was created. Players will uncover new details about the world that they've always wondered about, making for a far more complex game than what the others have offered in terms of story.

Halo Infinite
Publisher: Microsoft
Release date: 2019
No details were revealed other than a name and a pretty cinematic trailer. The game is obviously a new Halo entry, but whether it's a new mainline Halo game set before or after the last one, or a brand new addition that takes the game into MMO territory, is very much up for debate.

Fortnite for Nintendo Switch
Publisher: Square Enix
Release date: June 12, 2018
Nintendo finished off E3 2018 with a bang. Not only did they announce that Fortnite was coming to Nintendo Switch, but they also released it the same evening. Fortnite is now conquering all major platforms, and it's cross-play for most of them. The only exception is that those with Playstation Epic Games accounts cannot log into any other version of the game apart from mobile and PC.

Overcooked! 2
Publisher: Team17
Release date: August 7, 2018
Overcooked was a small indie game that took the world by storm. Now Overcooked 2 is coming to Nintendo Switch and all other major platforms in August. The game combines the stress of cooking to orders with wacky maps that constantly work against the players, available for up to 4 to play together. Overcooked 2 will also have online multiplayer, a feature fans have been crying out for since the game released.

Daemon X Machina
Publisher: Nintendo
Release date: June 12, 2018
Daemon X Machina was announced as a brand new Nintendo IP coming to Nintendo Switch. The game looks to be a giant mech fighting title with customisable machines and huge enemies for players to overcome, with similar concepts to the Zone of the Enders series.
Related Topics:
E3 2018
---