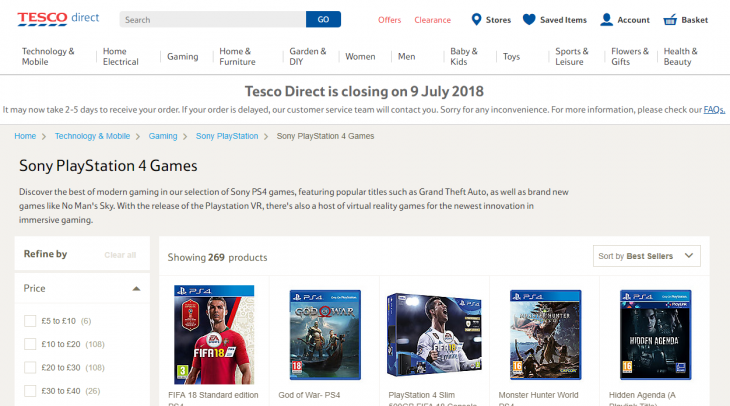 Tesco announced today that they will be closing Tesco Direct in order to focus on their grocery-focused online store, Tesco.com. Tesco Direct will close on the July 9, 2018, and all non-food items will be removed from sale online with Tesco, with the exception of a few which will be added to Tesco.com soon after the closure of Tesco Direct.
According to Eurogamer, who received a statement from Tesco, there was no route to profitability with Tesco Direct. The website is therefore being closed due to high fulfilment and online marketing costs, which have clearly been far too high for too long.
Among the vast number of products on offer from Tesco Direct were video games, some of which may have been ordered and set to arrive before the 9th of July. Any orders due to be delivered by the 9th of July will still be received, but any that are set to arrive after that date will be refunded, and the product order cancelled.
Tesco have said that the larger range of items they sell in stores will still be on offer on Tesco.com, but no confirmation has been made over whether the website will offer video games in the future. Many physical Tesco stores still sell video games and games consoles, which presumably bring in a lot of revenue or they'd have been removed from shelves.
Charles Wilson, Tesco UK Boss, said that part of the reason Tesco Direct is closing is because they want to offer customers the ability to purchase all of their goods, groceries and non-food items, all in one place. While the decision was hard it was a necessary one in order to secure the future of Tesco's online presence, helping grow and nurture the business as a whole.
The closing of Tesco Direct has put 500 jobs at risk of redundancy. The employee's unions are working on getting the best deal for them, but it's unclear at this time whether or not these staff members will be moved to different positions elsewhere in Tesco.