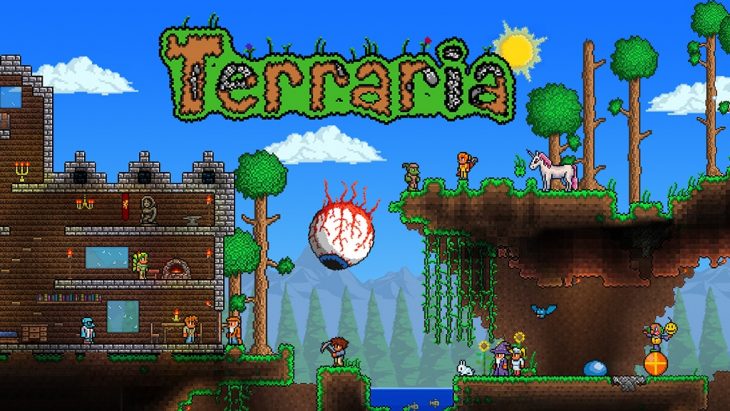 2D sandbox survival and crafting game Terraria has now sold more than 20 million copies, developer Re-Logic has confirmed. The game launched in May 2011 for PC, but the massive scope, modding scene, and continuous developer support has grown it so much that 8.5 million copies were sold in the last 18 months alone.
The gameplay in Terraria is similar to that of Minecraft, though with a different perspective, which might also account for its popularity. Players need to craft items in order to survive in the world, and beat bosses to officially complete the game. However, there is so much more to do in the game than simply progress through quests to the end, many players even set up towns and villages.
The modding scene for the game on PC, Mac, and Linux not only increases the replayability of the game, but also completely changes it for those who are looking for something new in their Terraria game. One such mod, or collection of mods, is Druidaria, which changes the game to have a setting similar to Dungeons and Dragons. Everything from the player classes, to crafting materials and skills are changed to bring something new to a game many are familiar with.
Terraria is a fantastic example of how continued developer support can not only maintain a game's fanbase, but serve to increase the number of players. Since 2011 Re-Logic has added 250 new items, 20 enemies, six NPCs, 10 biomes, and 3 bosses. This means that when gamers buy Terraria in 2017 it comes with a total of 3800 items, 350 enemies, 16 bosses, 25 NPCs, and 27 biomes (on PC).
Another, potentially more important, reason the game has sold so many copies is the number of platforms it can now be played on. Moving from Windows to Linux and Mac, the game is also available for iOS, Android, Amazon Mobile Devices, 3DS, Wii U, PS4, PS Vita, PS3, Xbox 360, and Xbox One, conquering almost every gaming device there is. Re-Logic finished their announcement with confirmation of 1.3 updates coming to the console versions of the game soon, with mobile version getting the update soon after that.