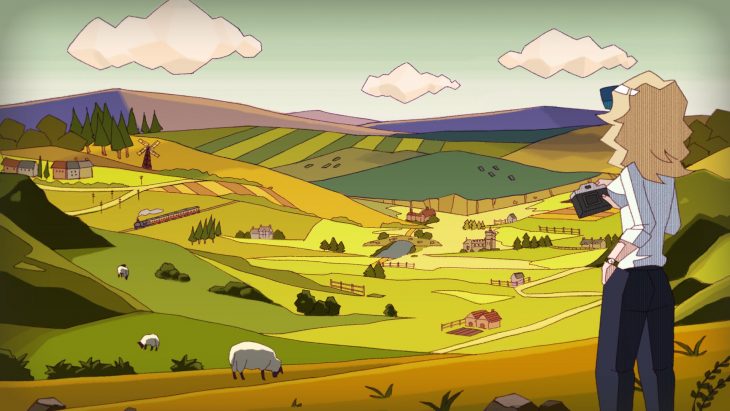 Swery, creator of both Deadly Premonition and D4: Dark Dreams Don't Die, has announced his new game, The Good Life.
The Good Life is live on a website similar to Kickstarter called Fig Community Publishing. Through the website fans are able to pledge money to the project in return for rewards, the higher the pledge promised to the project the greater the reward given by the creator.
In The Good Life players take on the role of Naomi, a photographer from New York. Naomi has accumulated a massive amount of debt, meaning she must work off that debt where she now finds herself, Rainy Woods.
Rainy Woods is a five hour bus journey from London and has no wi-fi, a nightmare for a budding American journalist. The tasks players can undertake in order to work off Naomi's debt include mining, farming, sheep herding, and more. Each character in the village, of which there are a number, operates on a full 24 hour schedule, meaning players will need to learn each character's schedule if they want to make as much money as possible.
The core story of The Good Life is a murder mystery. Naomi finds the body of a brutally murdered young woman with a medieval sword still stuck in her. This quest will be the main reason Naomi explores the town, and the reason for players to learn more about each character.
However, the town hides an interesting secret that will affect Naomi as well. Each and every night everyone in Rainy Woods transforms into a cat. When day comes once again everyone forgets the adventures they had at night, and it's down to Naomi to uncover the secret of this feline activity.
The Good Life will feature in-depth character customisation, ensuring every player's version of Naomi is individual to them, as well as character progression. As players complete more jobs Naomi's stamina will increase, and payers are able to buy gear to help boost stats such as stamina like boots, which increase speed. If however, players make Naomi drink too much alcohol then she will develop alcohol dependency, a form of negative progression which can occur on other activities as well.

Related Topics:
Swery
,
The Good Life
---