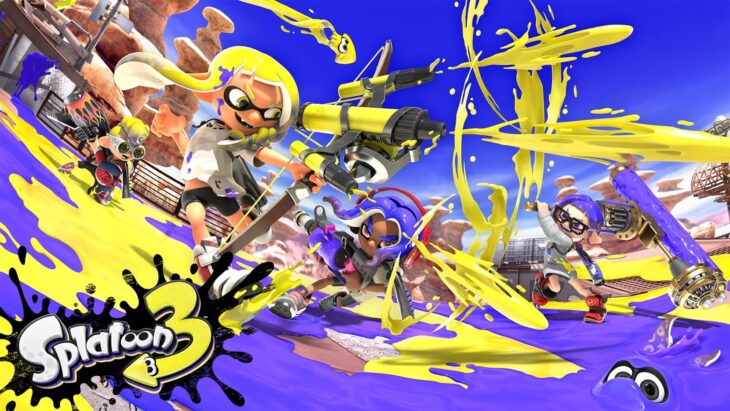 The newly released Splatoon 3 has reached the top of the UK boxed charts this week which makes it the first game in the franchise to achieve this. Both of its predecessors, the original 2015 game for Wii U and the 2017 sequel for Nintendo Switch, charted at No.2.
Compared to the second game, Splatoon 3 has sold 9% fewer copies, however, it is worth noting that this data only accounts for physical sales. Splatoon is also a very specific franchise that focuses on online gameplay, so it might have done a lot better on the Nintendo eShop in terms of sales.
According to Dorian Bloch, the boss at GfK, bot Splatoon on the Wii U and Splatoon on Switch debuted at No.2 on the GfK Entertainment All Formats Chart when they launched, however, Splatoon was held back from reaching No.1 by The Witcher 3: Wild Hunt while Splatoon 2 was beaten by Crash Bandicoot N.Sane Trilogy.
Bloch stated that Splatoon Wii U launched with no official hardware bundles and that the first such bundle arrived four weeks after the game's release. He added that it's worth mentioning that Splatoon Wii U was also released two and a half years after the launch of Wii U to a relatively small install base of 400 000 consoles.
Dorian continued by saying that Splatoon 2 had an official Nintendo Switch bundle during its first week and that the official bundle accounted for 57% of console sales as well as 17% of Splatoon 2 software sales within that week.
Bloch concluded by saying that Splatoon 3 is the 21st best week one game on Nintendo Switch, at least when it comes to the number of copies sold and not revenue.
Last week's best-seller, The Last of Us: Part 1 came in at No.4 with its week-on-week sales down by 66%.
NBA 2K23 debuted at No.6 with its boxed sales being 29% lower compared to its predecessor. The PlayStation 5 version of the game accounted for 56% of total sales, PlayStation 4 accounted for 16% and the Xbox Series X/S version of NBA 2K23 accounted for 14%. The Xbox One and Nintendo Switch accounted for 9% and 4% of the total sales respectively.
Finally, Humble Game's Temtem managed to chart at No.21 while Steelrising from Nacon/Maximum Games came in at No.29.
Below are the best-selling boxed video games in the UK for the week ending September 10, 2022: