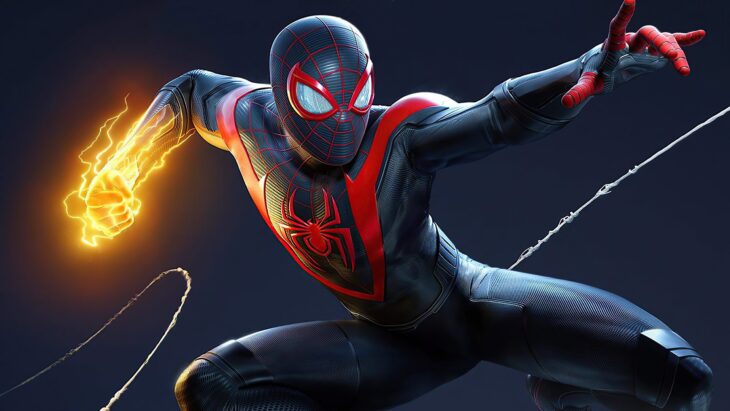 For the first time since the standalone expansion for Marvel's Spider-Man launched in November 2020, Spider-Man: Miles Morales has topped the UK boxed game sales charts.
While the game is available on both PS4 and PS5, it's become the best-selling PS5 title on the market. This is thanks to the fact that most console bundles of the PS5 are sold with a copy of the game. This also means that every time there's a surge in PS5 stock availability and sales, the game's sales get a boost as well.
This week, even without the PS4 sales of the game, it still would have topped the charts. 90 percent of all copies sold were for the PS5.
Sales for the game are up by 36 percent week-on-week, which is all down to the PS5 coming back into stock in some retailers. Each time the console comes back into stock, it sells out almost immediately, resulting in a boost to Spider-Man: Miles Morales sales too.
However, this isn't the only game to benefit from PS5 consoles coming back into stock. Other games are bundled with the device as well. Ubisoft's Immortals: Fenyx Rising saw a boost of 52 percent to sales week-on-week, moving up to fourteenth in the chart. Mortal Kombat 11 also got a boost, moving into the top forty for the first time in ages in eighteenth place with a sales boost of 203 percent week-on-week.
Super Mario 3D World + Bowser's Fury falls to second place this week behind the overwhelming sales for Spider-Man: Miles Morales. Sales for Nintendo's latest title have dropped by 15 percent week-on-week.
The next big game to hit the market will be Monster Hunter Rise. This is likely to top the chart, and could go on to be the next Animal Crossing: New Horizons for Nintendo, selling consistently well throughout 2021.
Some DLC for Immortals: Fenyx Rising is also due next week, which could boost the game's sales, since there's no requirement to finish the man story first.
The top ten best-selling physical games in the UK for the week ending March 13, 2021 were as follows.