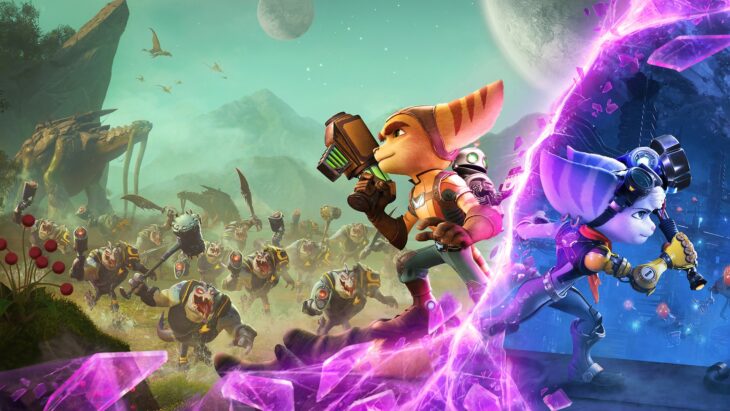 The latest PS5 exclusive, Ratchet and Clank: Rift Apart, smashed the competition last week and made it easily to the top of the UK game sales chart.
The game has sold well, with figures in line with the likes of New Pokemon Snap and Monster Hunter Rise. It even sold three times as many copies as the last PS5 exclusive to hit shelves, Returnal, though that game had a much narrower audience.
While Ratchet and Clank: Rift Apart was the star of the week, there were still a number of other releases. Chivalry 2 from Torn Banner landed in ninth place. The game is the sequel to the incredibly popular Chivalry: Medieval Warfare, and seems to have brought the following directly to it. After a dicey launch with servers struggling to cope, the game is stable and players are really enjoying it so far. 41 percent of sales for the title were on PS5, 36 percent on PS4, and 32 percent on Xbox One.
The second big-name release for the week was Final Fantasy VII Remake Intergrade. The game is a new version of the original remake, but adds in some new content with a brand new character. It debuted in twelfth place, and while it may have sold better with digital numbers combined, it's still little more than a new version of the game at full price with very little that's new to justify the spend.
Guilty Gear Strive entered the chart in twenty-sixth place. Fans of the anime will have been the main target for this game, so it's no surprise that it hasn't sold as well as some of the other new games this week.
Biomutant has fallen from sixteenth to fortieth place this week. Interestingly, Sniper Ghost Warrior Contracts 2 has seen a good week, with sales only down by 18 percent week-on-week, falling one place to thirteenth. The core demographic for the game will pick it up over time, meaning sales should be steady.
Two new big releases are set for the end of the month and beyond, with Mario Gold: Super Rush and The Legend of Zelda: Skyward Sword coming to the Switch before too long. These will be the only titles to truly mix things up again this summer though.
The top ten best-selling games for the week ending June 12, 2021 were as follows.