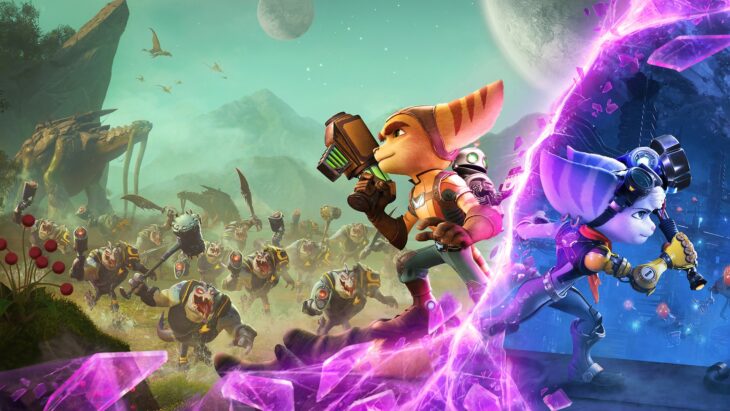 According to physical sales data from industry tracking firm GfK Entertainment, Ratchet and Clank: Rift Apart sold more copies in its second week on the market than it did in the first.
This is quite a rare thing to see with any game, particularly modern ones launching today. Usually you'd expect to see sales drop by a significant amount in the second week, a result of the huge influx of purchases, most likely buffered by pre-ordered, in the first week. In the past, second week increases have been seen in other titles, but these are generally hugely popular ones with mass appeal across multiple platforms like Just Dance.
The key difference with Ratchet and Clank: Rift Apart is that it's a PS5 exclusive, and it's a franchise that doesn't appeal to everyone out there. Given the price of the title, it's also much less likely that people will purchase it so close to launch, though obviously this hasn't been true for the game.
The thing that has helped the game sell so well is the adorable visuals and the incredibly approachable gameplay. As far as platformers go, it's one of the easiest to get into, and there's nothing so complex in the title that would put players of any age off of trying again.
The game is also available as a hardware bundle with PS5 consoles, which may be artificially inflating sales due to the sheer demand for the device. However it happened, the game saw a rise of 2 percent to sales week-on-week.
Minecraft Dungeons made a surprise return to the charts this week, landing in second place with sales up by 758 percent week-on-week. The game was heavily discounted, leading to a huge surge in sales. The Switch version was priced at £13, and made up 96 percent of the increased sales numbers.
FIFA 21 dropped to third place in the chart as a result, though sales were up by 21 percent week-on-week. Mario Kart 8 Deluxe shifted up to fourth with sales up by 47 percent, and Resident Evil Village got a bump of 59 percent to sales, moving up to fifth. This is thanks to an increase in sales of the PS5 version of the title.
New games include Metro Exodus Complete Edition, an enhanced version for modern consoles, which bumped the game's sales up by 77 percent, landing it in seventeenth place in the chart. Forza Horizon 4 saw a massive surge in sales, landing in twenty-second place with sales up by 480 percent week-on-week. This is thanks to Forza Horizon 5 being announced at E3 2021.
The top ten best-selling games for the week ending June 19, 2021 were as follows.