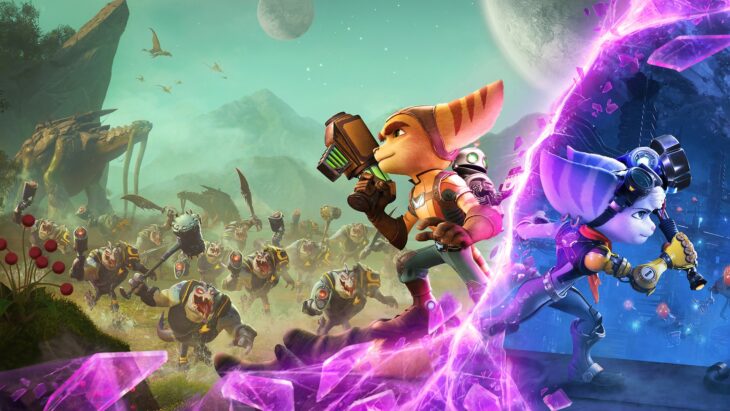 Ratchet and Clank: Rift Apart has once again topped the UK boxed sales charts. This comes off the back of an influx of PS5 consoles to the market, boosting the game's sales by 187 percent week-on-week.
This is the third time that Ratchet and Clank have topped the chart in their latest adventure together. The boost with PS5 stock is thanks to a bundle that packages the game with PS5 consoles.
However, it's not just Ratchet and Clank seeing a boost thanks to PS5 stock. Another bundle containing Assassin's Creed Valhalla saw a rise to eighth place in the chart thanks to an increase in sales of 77 percent from the PS5 as well.
The most popular new entry this week is Monster Hunter Stories 2: Wings of Ruin. The Switch exclusive is a sequel to a beloved spin-off entry in the Monster Hunter franchise that swaps repeatable hunting gameplay for hardcore RPG mechanics and a deep story. While it hasn't touched the sales of Monster Hunter Rise, it has more than doubled the sales of the original Monster Hunter Stories. That game launched in the west in 2017, but saw a growth in popularity after Monster Hunter World launched a year later. The game debuted in third place in the chart this week.
The second new physical release is Oddworld: Soulstorm, which just made it into the chart in tenth place. 52 percent of sales were for PS5, and 48 were for PS4.
Mario gold: Super Rush drops three places to fourth this week, with sales tailing off by 42 percent week-on-week.
FIFA 21 has held onto second place nicely thanks to the European Championships. Now that the event is over, the game will likely fall a little lower in the chart, but remain a constant presence as every FIFA entry does.
The top ten best-selling games at retail in the UK for the week ending July 10, 2021 were as follows.