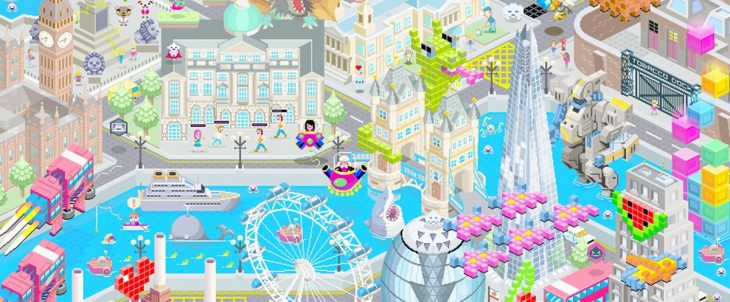 The program for the full ten days of the London Games Festival 2018 has been revealed by Games London. The event will run from April 5th to the 15th in England's capital city.
The London Games Festival is a celebration of the UK games industry, and expects to receive over 50,000 attendees over the course of the 10 days it's open. There will be more than 40 events at the festival for consumers and professionals to attend, with more than 400 games being showcased including EGX Rezzed and the BAFTA Game Awards as partner events.
The Games Finance Market is returning to help professionals in the industry between April 10th to the 12th, with around £500 million from 60 investors ready to be invested in 60 creators. LGF HUB will be debuting this year at the festival, featuring demos for upcoming game releases as well as B2B keynotes.
This year will also introduce the Ensemble exhibition, which showcases the work of eight BAME (black, asian, minority ethnic) industry creatives. These will be; Director of Ultimatum Games Shahid Ahmad, Composer Nainita Desai, Chair for BAME in Games Kish Hirani, CEO of Six to Start Adrian Hon, Consultant for Film London Nahrein Kemp, CCO for Spirit AI Dr Mitu Khandaker, and UX.UI Designer for Hutch Games Anisa Sanusi. This exhibition begins on the 9th of April.
Sadiq Khan, Mayor of London, said that he is proud to support the London Games Festival, the biggest celebration of video games and interactive entertainment in the world. This festival brings together cutting-edge technology entrepreneurs and creative minds from the industry, attracting the top developers and innovators too. This, he believes, keeps London on the map as a global gaming centre.
Jo Twist, CEO for Ukie commented that this will be the biggest and best London Games Festival yet. The festival is a celebration of the economic contribution that games and interactive media make to the UK and the world at large, which this year will champion the diverse minds behind the games feeding the industry's growth.
Chief Executive of Film London, Adrian Wootton, said that the games industry is part of the creative collective of industries in London that are showing accelerated growth. The festival is a great opportunity to showcase what gaming is, and what's coming in the future for the industry from UK developers.