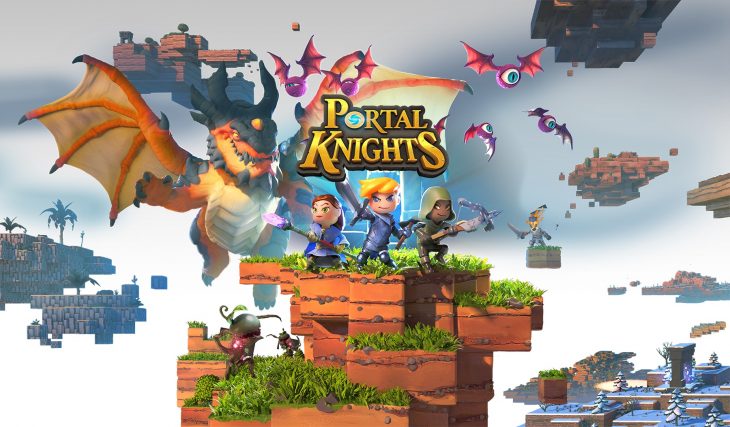 Award winning cooperative role playing game Portal Knights is now available digitally for Nintendo Switch, with a physical release to follow in February 2018.
Portal Knights is a 3D sandbox adventure in which players must create a character and travel to randomly generated worlds where they need to repair the damage done by the fracture. Players must defeat powerful Portal Bosses in order to become Portal Knights who defend the realm from darkness.
The game was met with mostly positive reviews when it launched in 2016, having been available on a number of platforms in early access for some time. Critics have praised the game for the scalability of worlds and the rich content in provides by randomly generating hundreds of areas for players to explore. The games crafting and building elements were also highly praised as they add to the game so it can offer a number of different type of gamers everything they could hope for.
Until now Portal Knights has only been available on home consoles of PCs. For the first time since it was in early access the game is now fully playable at home or on the go with the Nintendo Switch. This will be one of the first games that even comes close to an MMO to release for the Switch, and hopefully won't be the last.
The game features multiplayer with up to four players, or two in split screen play, across multiple islands or the same one. Players can explore and beat dungeons together, craft items, and even build their own little town from the resources they find around them.
Players are able to create characters from a number of customisable options and specialise them to create whatever class they'd like such as Ranger, Warrior, or Mage. They can then fight to earn new gear from enemies as they drop it, as well as new weapons, which come in a variety of rarities.
The core gameplay revolves around gathering magical shards which are required to rebuild the portals between various sections of this fractured fantasy world. Travelling around the randomly generated sandboxes provides almost endless replayability, and when players are done fighting evil they can settle down and built a home for themselves in whatever world they choose.