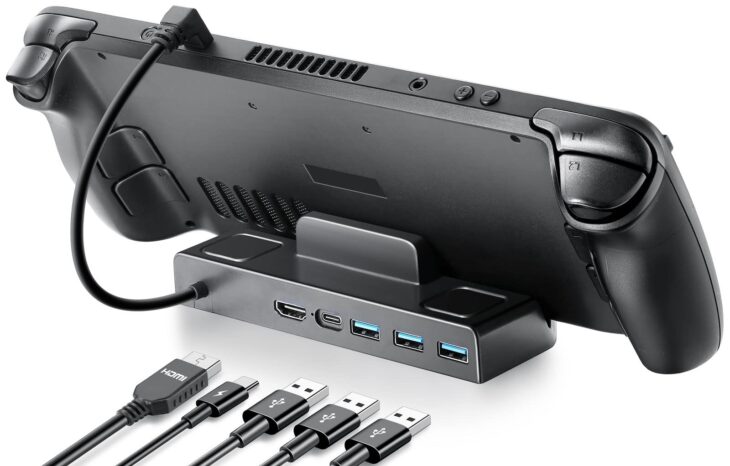 Valve Steam Decks are finally available for pre-order and shipping. Valve has also unveiled docking stations for the device. They cost $89 and ship in 1-2 weeks.
Valve's handheld gaming PC the Steam Deck is easily comparable to the Nintendo Switch in form and function. The new official dock accessory from Valve will let users play on a TV or PC monitor while the Steam Deck is charging, ensuring that the gaming never stops because of a low battery. Users can start playing in either dock or handheld mode and seamlessly transition to the other.
Supporting this functionality are multiple ports on the dock: an HDMI 2.0, a 1.4 Display Port, 3 USB ports, and a gigabit ethernet connection. A USB-C connector powers the Steam Deck while it is docked. The dock itself can function without a power supply hooked to it but as it will then draw from the Steam Deck itself efficiency will be reduced.
In a FAQ released by Valve, the developer states that the Steam Deck Dock should be compatible with most displays and peripherals. There remains a chance that a device is incompatible or causes a bug, one issue with certain LG devices is mentioned directly by Valve but can be solved with a simple power reset. When new bugs or incompatible devices are found, Valve will release updates for the Steam Deck Dock.
Valve's Steam Deck Dock weighs in at approximately 120 grams with the following dimensions: 117mm x 29mm x 50.5mm. If you do not want to use the official Steam Deck Dock from Valve, then there are third-party options available that will also benefit from the work Valve has done making their dock compatible.
The Steam Deck Dock can be ordered from Valve for £79 with a wait time of 1-2 weeks. A 256gb Steam Deck can also now be ordered without a reservation. The 64gb and 500gb versions will require reservations through the end of the year.