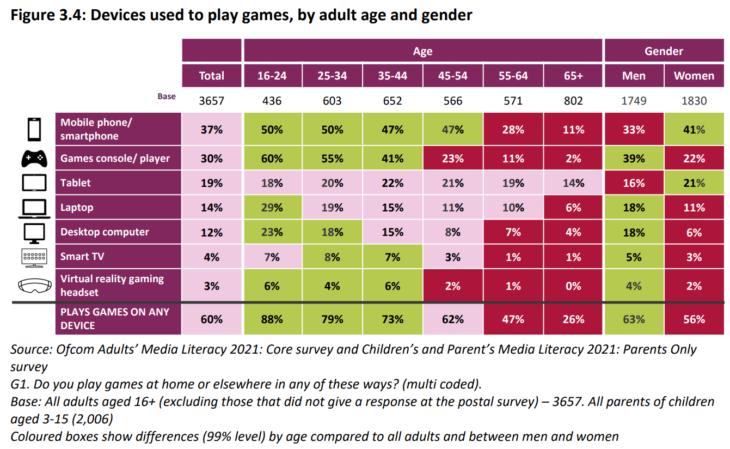 Ofcom, the UK communications regulator has released its Online Nation 2022 report. It reveals that 58% of UK players subscribed to at least one video game subscription service during Q4 2021.
The most popular subscription service in the UK was the PlayStation Plus which accounted for 3.2 million subscribers. Xbox Game Pass came second accounting for 2.6 million while Xbox Live Gold and Nintendo Switch Online accounted for 1.5 million and 1.49 million respectively.
By the end of 2021, more than 2.1 million people were subscribed to cloud gaming services, and once again, Sony came out on top with their PlayStation Now service. It is worth noting that this number increases to 2.9 million if we include users who access the free GeForce Now and Google Stadia tiers.
When it comes to the services that are not connected to a particular platform, the leading service during Q4 2021 was Amazon Prime Gaming.
According to a separate survey conducted around video-on-demand services, Ofcom reported that only 54% of Netflix subscribers know about its games offering, and only around 8% of them have actually played a Netflix title.
Ofcom also revealed that 39% of adults in the UK who are over the age of 16 play video games compared to 56% of children between the age of 3 and 15. In total, 60% of adults in the UK and 91% of kids aged between 3 and 15 play video games on either mobile, consoles, or PC.
The report shows that mobile is still the No.1 gaming platform in the UK accounting for 37% of players. Consoles come second accounting for 30% and are followed by tablets which account for 19% of the player base.
On average, gamers spent 7 hours and 33 minutes weekly playing video games during Q4 2021.
The most played video game in the UK was Candy Crush with 1.2 million UK adults still playing the 2012 King title daily. In February 2022, 2.5 million users played Candy Crush in the UK. Pokemon Go was the second most-played game with 1.6 million players followed by Roblox with 1.5 million.
When it comes to free-to-play titles, Wordle had an average of 8.4 million visitors during February 2022 which is an average of 1.8 million daily visitors.
Only around 3% of adults in the UK played Virtual Reality games with PSVR being the most popular VR headset and accounting for 32% of the player base.
According to the report, Sony managed to overtake Oculus which was the leading market leader in the UK since Q4 2020, however, Oculus now accounts for 25% of the VR player base. Nevertheless, only around 5% of PS4 and PS5 owners have chosen to adopt the PSVR.