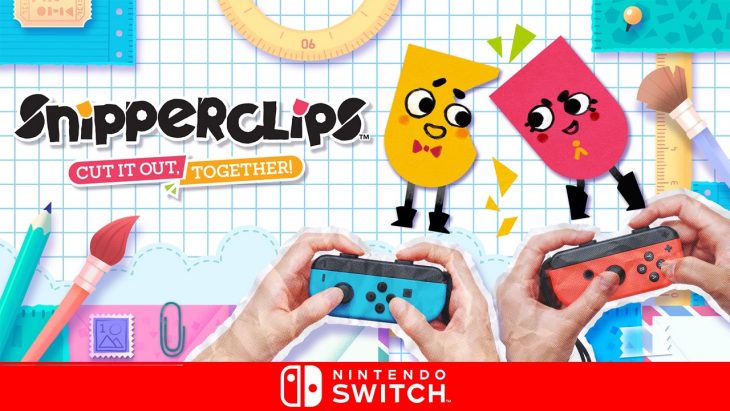 Nintendo Japan published their list of the top selling games for Nintendo Switch from the Switch eShop for the first half of this year. Snipperclips from UK developerSFB Games, has topped the chart at number one.
Snipperclips is a puzzle title in which players must cut characters into the correct shapes in order to solve each puzzle. There is no set way to solve each puzzle, and the Joy Con Controllers make it easy for players to construct any shape they can imagine.
While no exact figures for the number of units of each game sold have been released, we can see that not only did Snipperclips make it to the top spot in the chart, it beat the Switch edition of Minecraft, which was in number two, and Mario Kart 8 Deluxe Edition, which is in at third position. Snipperclips has an advantage over both Minecraft and Mario Kart 8, which released in May and April respectively, because it came out in March with the Switch. However, even with this advantage it seems as though Snipperclips has sold extremely well against the competition.
Other titles in the top ten include The Legend of Zelda: Breath of the Wild, which sits in fifth position, even though according to recent data every Switch owner has at least one copy of the game. This could be attributed to the huge download size however, meaning players have opted for a physical edition to save space.
ACA NeoGeo Metal Slug 3 is in sixth position, just ahead of the newly released 1-2 Switch which is currently in seventh place in the chart. The Nintendo party game ACA NeoGeo The King of Fighters 98, and Othello, fill out the end of the top ten in ninth and tenth position respectively.
The full list is as follows:
1. Snipperclips – Nintendo
2. Minecraft Nintendo Switch Edition – Mojang
3. Mario Kart 8 Deluxe Edition – Nintendo
4. Kamiko – Fly High Works
5. The Legend of Zelda: Breath of the Wild – Nintendo
6. ACA NeoGeo Metal Slug 3 – Hamster
7. ARMS – Nintendo
8. 1-2 Switch – Nintendo
9. ACA NeoGeo The King of Fighters 98 – Nintendo
10. Othello – Arc System Works
11. Voez – Fligh High Works
12. Super Bomberman R – Konami
13. Frontier Days: Founding Pioneers – Arc System Works
14. Blaster Master Zero – Inti Creations
15. ACA NeoGeo Metal Slug – Hamster
16. Human Resource Machine – Fly High Works
17. Flip Wars – Over Fence
18. Shovel Knight – Yacht Club Games
19. Ultra Street Fighter 2: The Final Challengers – Capcom
20. Maison De Maeva – Moebius
21. Wonder Boy: The Dragon's Trap – DotEmu
22. Secret of Mana Collection – Square Enix
23. Puyo Puyo Tetris – Sega
24. Mighty Gunvolt Burst – Inti Creations
25. Thumper – Drool