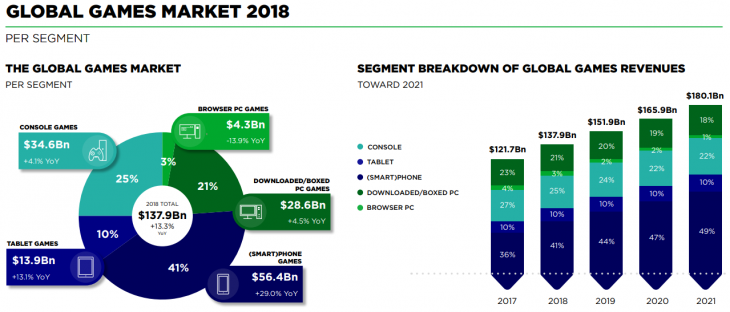 Source: Newzoo
Newzoo have released a report on the global games market in 2018, detailing the predicted revenue it will generate for the year and breaking it down into regional sectors.
According to the report the Asia-pacific region is going to generate 52 percent of all global games revenue for 2018, around $71.4 billion. This figure is an increase of 16.8 percent year-on-year, which is largely because of the ever-growing smartphone games market in the region that has boomed over the last few years.
It's predicted that the revenue generated by North America will increase by 10 percent to $32.7 billion. This makes up 23 percent of the predicted games industry revenue for 2018, making it the second-biggest region in terms of revenue generated.
In the EMEA (Europe, Middle East, and Africa) regions the interest and uptake of smartphone gaming has been far slower. It's predicted this year that the regions will make up 21 percent of global games revenue for 2018 at $28.7 billion. Even with a slower growth rate this is still an increase of around 8 percent year-on-year for the regions.
Latin America is expected to grow by about 13 percent this year to reach $5 billion in revenue for the global games industry. This will give the region the smallest segment of the global games industry, but as the industry grows this segment will grow to represent even more revenue in coming years.
Newzoo expect this and following years to secure the Asia-pacific region as the largest by global games revenue. It will also be the fastest-growing region in the next three years, with countries such as India rising to contribute more to the industry. Newzoo also predict that by 2021 China will rise to become the biggest single market worth $50.7 billion.
In terms of what categories of gaming will make up this revenue it's predicted that smartphone and tablet gaming will generate $70.3 billion in 2018. This segment isn't just the biggest right now in terms of revenue however, as it has the most players as well 2.2 billion around the world.
Both the console and PC categories are continuing to grow in 2018. Console has risen to become the second-largest category, and is predicted to generate $34.6 billion in 2018. By 2021 the console category is expected to grow to reach $39 billion, leading to a CAGR of 4.1 percent from 2017 through to 2021.
In 2018 it's predicted that the PC category will generate $32.9 billion, and it's currently the third-biggest category. The category has seen a decline in physical boxed sales, but this is more than made up for in digital downloads, but browser gamers are moving to mobile. The PC browser category is expected to continue to fall with a CAGR of -16.1 percent from 2017 to 2021 to an eventual $2.5 billion in 2021.