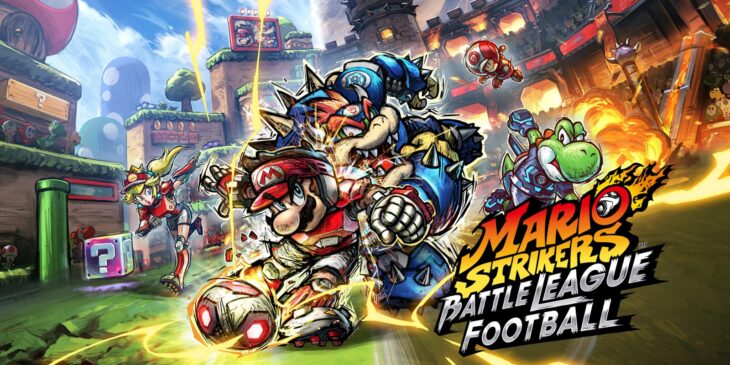 Mario Strikers: Battle League Football, the latest installment of the Mario Sports games, reached No.1 in the UK boxed charts.
Compared to Mario Golf: Super Rush, which was released last year, Mario Strikers: Battle League Football sales are lower by 20%. Its sales are also lower by 6% compared to 2018's Mario Tennis Aces. These numbers are somewhat surprising, considering the popularity of football in the UK. however, it will be interesting to see what Nintendo does with the title next December when the World Cup kicks off.
Another new release that managed to appear in the charts is The Quarry developed by Supermassive Games and published by 2K. The game seems to have done all right in terms of physical sales, but we will have a better idea of the sales once the digital data becomes available later this week. PlayStation accounted for 85% of all physical sales, however, it needs to be noted that Xbox has a higher percentage of digital sales compared to PlayStation. Another thing worth noting is that The Quarry is a spiritual successor to Until Dawn, a PlayStation-exclusive title.
Lego Star Wars: The Skywalker Saga has gone up to No.2 on the charts through its week-on-week sales have declined by 7%. Horizon Forbidden West came at No.3 with its week-on-week sales dropping by 21%. Rounding up the Top Five, we have Nintendo Switch Sports at No.5 with its week-on-week sales declined by 36%.
A few Nintendo Switch titles have gone up in the charts this week due to stock pushes. The latest Kirby title, Kirby and the Forgotten Land landed at No.6 after its sales increased by 91%. This is the third week in a row that marks significant sales growth for the Kirby title. Mario Golf: Super Rush reappeared on the charts at No.16 with its week-on-week sales increasing by 291%.
Finally, the recently released Sniper Elite 5 went down a few spots to No.12 after its sales dropped by 44% week-on-week.
Below are the best-selling boxed video games in the UK for the week ending June 11, 2022: