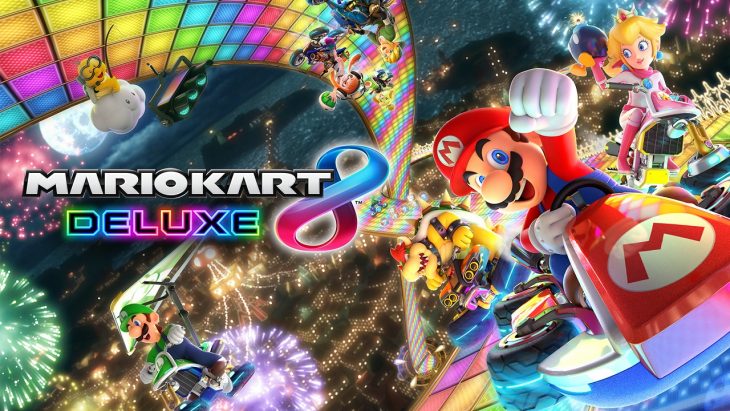 Mario Kart 8 Deluxe for Nintendo Switch has held, for the second week, the top spot in the Japanese wholesale and retail sales chart, selling 86,313 during that time. The additional sales have pushed the initial week's sales of 280,229 to 366.542 cumulatively.
Week on week this is a fall of 69 percent in sales for Nintendo's latest Mario racer, however the sales of Mario Kart 8 Deluxe Edition are in fact coming close to those of The Legend of Zelda: Breath of the Wild. The latest Zelda game came in at fourth position in the same charts which netted it a further 16,505 sales. Cumulatively The Legend of Zelda: Breath of the Wild has sold 393,726, showing that Mario Kart 8 Deluxe Edition has sold extremely well to actually catch up.
In second position was Dragon Ball Heroes: Ultimate Mission X, which has sold 30,840 over the last week. Fire Emblem Echoes: Shadows of Valentia however fell to number five, a drop 41 percent week on week. Monster Hunter: XX flew past Fire Emblem and reached number three in the charts, thanks to a seven percent rise in sales week on week.
There have been no new entries to the chart which has allowed 1-2 Switch a sales increase of 0.5 percent. Mario Sports Superstars saw a much larger sales increase of 43 percent, moving it to number seven from number 10 the week previous. This move pushed Dark Souls 3: The Fire Fades Edition down to number 8.
Pokemon Sun and Moon managed to make it back into the sales chart and sell 5,964 more copies, which as pushed the cumulative sales for the games to 3.75 million.
Hardware wholesale and retail charts still see the Nintendo Switch selling best, with 47,353 more units sold over the last week, though the Playstation 4 still remains the second most popular console. The full sales chart is below:
Mario Kart 8 Deluxe Edition – 86,313
Dragon Ball Heroes: Ultimate Mission X – 30,840
Monster Hunter: XX – 25,929
The Legend of Zelda: Breath of the Wild – 16,505
Fire Emblem Echoes: Shadows of Valentia – 14,650
Pro Yakyu FamiSta Climax – 9,709
Mario Sports Superstars – 8,112
Dark Souls 3 :The Fire Fades Edition – 7.025
1-2 Switch – 6,828
Pokemon Sun and Moon – 5,694