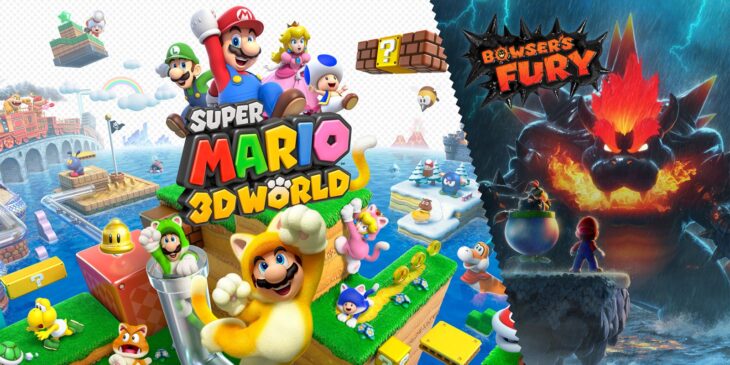 Nintendo has enjoyed yet another great week in the UK in terms of game sales. In particular, Mario games seem to be doing incredibly well.
For the fourth consecutive week, Super Mario 3D World + Bowser's Fury is the best-selling game in the region, topping the chart. The game saw an 18 percent drop in sales week-on-week, but it's still holding strong against all competition.
Mario Kart 8 Deluxe has moved up two places to fourth this week thanks to a 7 percent increase in sales. The game is packaged with most Switch hardware, so this could be an indication that Switch hardware stock levels have been sorted out, following a couple of weeks when the product was scarce.
Super Mario 3D All-Stars has re-entered the chart in sixth place this week after seeing a boost to sales of 36 percent. The game was released to celebrate Mario's 35th anniversary, but Nintendo stated that the game would be taken off of shelves on March 31, 2021. This includes the digital version, meaning the game will be completely unobtainable. This is likely why sales have seen an uptick.
Super Mario Odyssey has also seen a boost, moving up two places to thirteenth place this week. Sales are up by 5 percent, which may be a side-effect of the impending removal of Super Mario 3D All-Stars.
In total, six games out of the top ten best-selling in the UK were Nintendo exclusives. Animal Crossing: New Horizons rose by five places to third with a sales boost of 40 percent. New in-game items themed around Mario were recently added, which is almost certainly why the game has seen a boost in popularity.
The only new release this week in the chart, Yakuza: Like a Dragon, re-entered the chart in thirty-fifth place. This is thanks to the release of the PS5 version.
Spider-Man: Miles Morales is still second in the chart, though sales are down by 19 percent. This shows that PS5 sales are still coming in the UK, but the game is likely to fall from the chart when stock levels drop.
Bravely Default 2, a new release from last week, fell to thirty-third as sales plummeted by 74 percent. This is due to the game being a Switch exclusive JRPG, not the most popular genre on the platform.
The top ten best-selling games in the UK for the week ending March 6, 2021 were as follows.