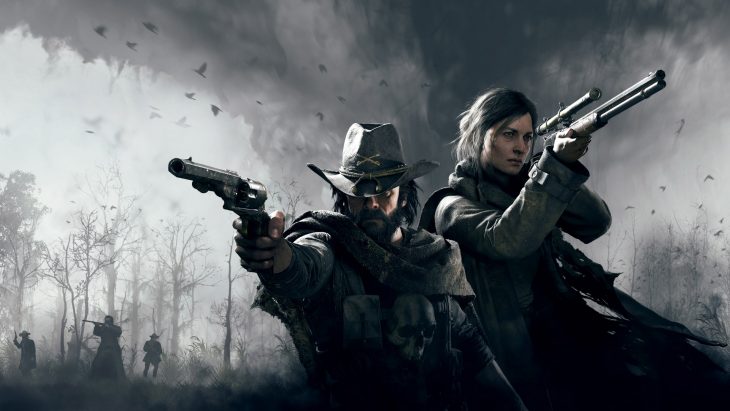 Crytek has finally announced a PlayStation 4 release date for their atmospheric multiplayer horror game, Hunt: Showdown. The game will launch for Sony's platform on February 18, 2020, with cross-play with Xbox One and PC players confirmed as an update in the future.
Originally launched in Steam Early access in February 2018, Hunt: Showdown grew alongside its fans, launching as an Xbox Preview Game in May soon after. Both of these versions finally launched as full releases at the end of 2019, but until today there has been no word on the PlayStation 4 version's release date.
In Hunt: Showdown, players are unleashed together either as teams of two or three, or as solo hunters, into a monster-infested area where they must hunt for the best prey. There are a couple of maps for the game so far, but now that all versions of it are about to be fully released, more should be on the way.
The overall goal for each map is for the twelve players to locate and kill the boss-like creature in the area, one of a few different set monsters. Once someone has killed this monster, and claimed the reward, they become the new target. Rewards can be claimed from killed hunters, so it's in every player's interest to defend themselves well, and avoid others at all costs.
Crytek has teased some of the content that will come to the game soon as part of the PlayStation 4 version's release date announcement. First is the news of update 1.2, which adds the ability for random players to be matched up into teams of three. This update will also bring advanced tutorials for those who want to understand everything about the game before they jump into a match, not a bad move for such an intense horror game.
A solo PVE mode is also planned for Hunt: Showdown later in 2020, as well as limited time events, more maps, and a plethora of customization options for players to equip on their hunters.
Hunt: Showdown is an incredibly interesting multiplayer game, changing each match just enough to make it interesting and different than the one before. There's no word on whether the game is coming to PlayStation 5 and Xbox Series X yet.