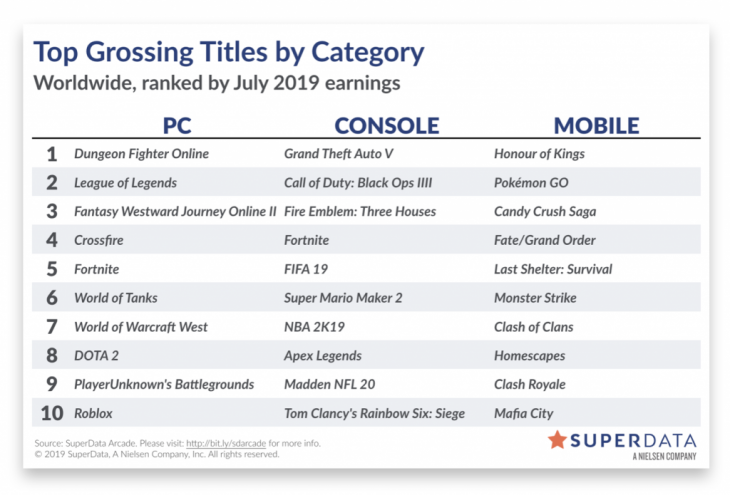 SuperData's Worldwide Digital Games Market Report for July 2019 shows that worldwide digital game spending in July 2019 rose 5% ($9.02 billion) from the corresponding figures for July 2018 ($8.56 billion).
Significantly, console and PC digital revenues declined year-on-year. It was, therefore, a 14% year-on-year rise in mobile gaming that drove overall growth in the sector, highlighting the increasing power of the mobile gaming market.
It is widely accepted that this summer has been a quiet period for new PC and console games. This is reflected in the fact that the two highest-grossing digital console games in July 2019 were Grand Theft Auto V and Call of Duty: Black Ops 4, both of which have been on the market for an extended period of time.
The third highest-grossing console game, Fire Emblem: Three Houses, is one of the few successful launch stories of the summer. Superdata report that it has sold 800,000 digital units on the Nintendo Switch making it the "best digital launch in franchise history."
A disappointment on PC and console was the performance of Apex Legends: Season 2. Though the game improved on its June 2019 performance, generating revenue of $37 million on console and PC in July, this figure still falls short of the revenue generated by Apex Legends: Season 1 in its most profitable month.
Heavy-hitting battle royale titles Fortnight and PlayerUnknown's Battlegrounds retain a strong presence in the charts. Fortnite places fourth on console and fifth on PC, while PUBG enjoyed a sales spike in July, selling 1.1. million units thanks to a price cut to $18.
Grand Theft Auto V has been an enduring success story, but also enjoyed a spike in July. Superdata report that the Diamond Casino update helped the game bring in $69 million across the month, making July 2019 "one of the best sales months for the game since launch and the first month of double-digit year-over-year growth since August 2018."
July 2019 undoubtedly belongs to mobile gaming, though. Honour of Kings, Pokemon GO and Candy Crush Saga take the top three spots in the Superdata mobile chart. Check out the table below for the full top tens for PC, Console and Mobile.