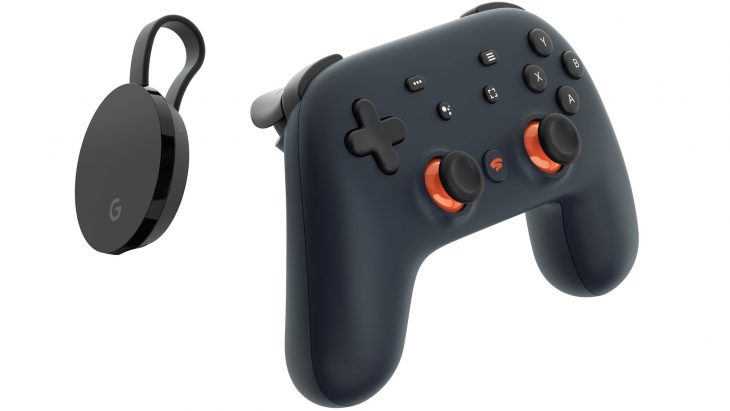 Google has announced the release date for their upcoming game streaming service, Google Stadia. The service will launch on November 19, 2019, at 9am PST. The announcement was made during the launch event for the Pixel 4.
While the servers for Google Stadia will go live on November 19, the controllers won't be shipped until some time after. The only exception are the Founder's Edition Bundles, which will be shipped out for the release date on a first pre-ordered, first served basis. The Founder's Edition includes a Stadia controller, ChromeCast Ultra, three months of Stadia Pro subscription, and a pass for friend's to access the service as well.
Initially it will only be those who ordered the Founder's Edition or the replacement when that edition sold out, the Premiere Edition, who will be able to access Stadia Pro. A standalone subscription for Stadia Pro will be coming later this year, and the free version of the service, Stadia Base, is expected in 2020.
Already confirmed for Google Stadia are games like Assassin's Creed Odyssey, Destiny 2, and the entire Tomb Raider reboot trilogy. Rockstar Games also recently confirmed that Red Dead Redemption 2 will be coming to the service alongside the game's PC version launch.
Game streaming services have become more common over the last year, with PlayStation Now getting better and better, the Xbox Games Pass offering a slew of amazing games such as Gears 5, and even publishers like Ubisoft launching their own services, similar to Uplay+.
More and more gamers are accepting that game streaming can be a great way to play games without the hassle of having to download them, or purchase a new release every month. However, there are some major concerns about the stability of Google's Stadia streaming service, particularly in the early days after launch.
Stadia will allow gamers to play games through Google Chrome on any device, meaning the service relies mostly upon the user's internet connection. Some areas of the UK, and many in the US, still have little access to faster broadband speeds, meaning Stadia may never work properly for them. There is also the issue of streaming a game, and then playing it online with others, which many believe will be too much for the service to handle.