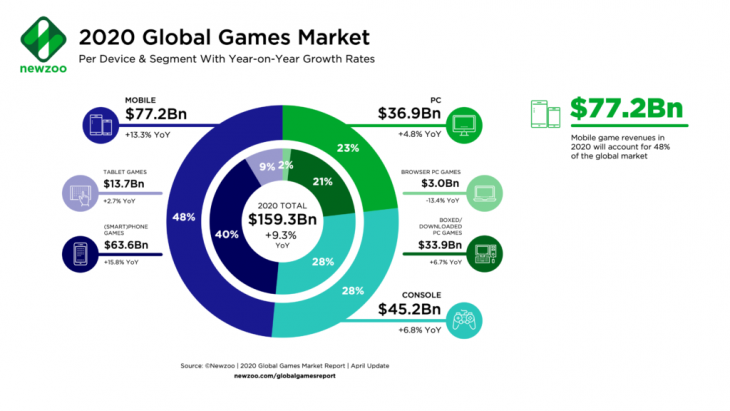 According to a recent report on the global games market from Newzoo, a market intelligence firm, the global games market is set to hit a value of $159 billion this year. This is due to a combination of increased interest, and the spike in market value of 9.3 percent this year, pushing the market's value to $159.3 billion, amid the coronavirus (COVID-19) pandemic.
Player growth in markets such as the Middle East and Africa have now overtaken North America in terms of growth, and are close to overtaking Europe as well. However, effective monetization in these regions still isn't as optimised as it could be.
Between the Middle Eastern and African game markets now have around 377 million players, which accounts for about 3 percent of global gaming revenue. This figure has grown by 14.5 percent year-on-year, raking in $5.4 billion.
Similarly, Latin America has 266 million players, and makes up 4 percent of all global gaming revenue. The market there has grown to $6 million, an increase of 10.3 percent year-on-year.
There are an estimated 368 million players in Europe, far more than the 210 million in the US. However, US gamers clearly spend more, with the region's revenue coming in at $40 billion, while Europe brought in $30 billion.
Asia is the dominating region in the global games market, accounting for 49 percent of global games revenue, drawing in $78.4 billion, with more than 1.4 billion players.
The number of gamers around the globe grew by 5.3 percent year-on-year in 2020, and it is estimated that by the end of 2020 there will be 2.7 billion in total.
Throughout the coronavirus pandemic, people have turned to gaming as a form of entertainment. The industry has managed to be almost unaffected by lockdowns around the world, though game development has certainly taken a hit.
Games like Animal Crossing: New Horizons have driven a huge surge in sales around the world, and it's likely that they wouldn't have if lockdowns weren't in place. This year has shown many people how helpful and enjoyable games can be. With a new console generation just around the corner, this year's stats could increase dramatically by 2021.