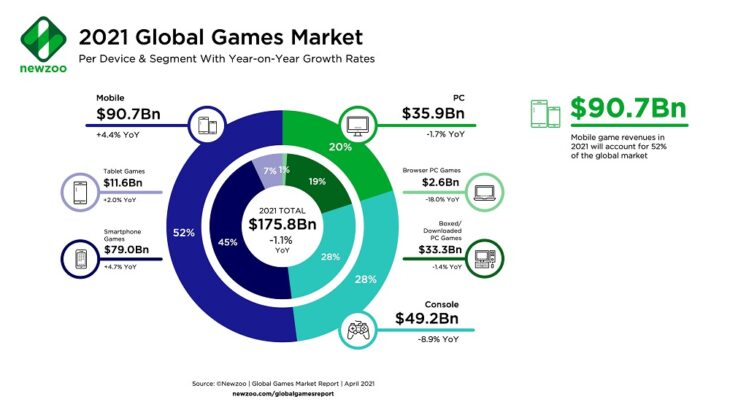 Newzoo has released its report on the global games market for 2021, showing what it expects the market to do over the next year. Chief among these expectations is the generation of $175.8 billion in revenue over the next twelve months.
Newzoo, a research firm, has also shared that this expectation is actually a drop in revenue of 1.1 percent year-on-year. However, it added that this is a reasonable expectation due to the unforeseen boost that the market got last year due to the pandemic. With more lockdown rules lifting around the world in 2021, it's reasonable to expect a small drop in the revenue this market will generate now that people aren't locked inside all day.
The firm added that another part of this expected decline in revenue is due to a lack of hardware availability. The industry is all too aware that key components for manufacturing consoles are in short supply, leading to the Switch, PS5, and Xbox Series X/S being a rare sight online or on store shelves.
New consoles are also lacking in terms of first-party titles at the moment. All the big games planned for 2021 have been delayed either to the end of the year, or into 2022. This is due to remote working constraints that are still affecting developers. Many are also too afraid to launch a game with bugs after the fiasco that was the launch of Cyberpunk 2077. This will lead to a backend of 2021 with heavy spending from consumers.
The mobile market in particular is expected to grow by 4.4 percent this year, leading to revenues of $90.7 billion. This accounts for 52 percent of the entire global games market revenue that the firm expects to see over the next year. With more publishers and developers prioritising mobile as a platform, this is likely to happen. Niantic's new Pikmin mobile title, for example, could generate this much in the year if players latch onto it as they did with Pokemon Go.
The report concludes with an expectation that the global games market will hit $204 billion by 2023. With more hardware availability over the next couple of years, this is a restrained expectation, but one that the market could indeed reach.