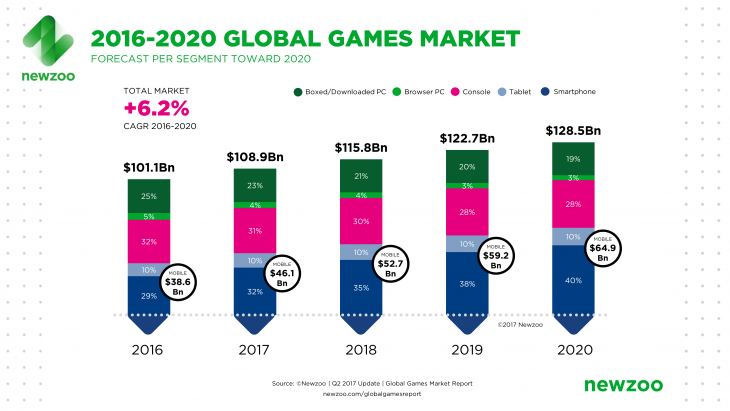 Newzoo, a market research firm that specialises in videogames, has released the latest quarterly update for its Global Games Market Report. The headline figure of the report is the 108.9 billion dollars revenue they expect the industry to generate in 2017.
The number would represent an increase of $7.8 billion from the 2016 figure. This equates to a 7.8% rise in revenue and indicates that the games market continues to go from strength to strength.
The biggest growth has been in the mobile gaming market. This is projected to grow 19% from 2016's figure to bring in $46.1 billion of revenue in 2017. $35.3 billion of this is expected to come from smartphone gaming, a highly lucrative market, with the other $10.8 billion coming from tablet devices.
Newzoo note that "tablet unit sales have plummeted over the years," but with so many devices already in circulation (280 million "used actively"), the sector still holds some sway. However, it is the rise of smartphone gaming that underlies one of the boldest predictions of the report: "in 2020, mobile gaming will represent just more than half of the total games market."
One victim of the runaway success of mobile gaming has been the PC gaming market. "PC browser revenues have been decreasing since 2015," Newzoo report, "because of the transition of casual gaming to mobile devices." As such, Newzoo expect PC revenue to decrease by 2.6% in 2017, generating $29.4 billion in revenue.
The console market continues to look healthy. Despite the market performing "better than expected" in 2016, Newzoo are still forecasting a 3.6% rise in console revenue in 2017 to $33.5 billion.
Notably, 65.8% of this revenue is likely to be digital, highlighting the importance of online subscription services such as Xbox Live and PlayStation Plus and the increasing number of games downloaded online rather than purchased as physical copies from retail stores.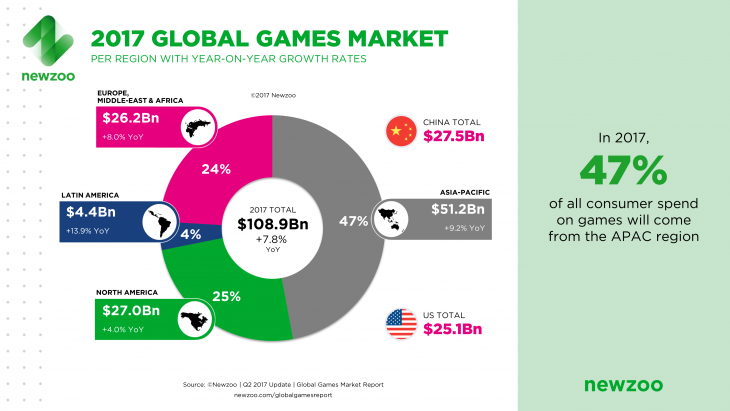 In terms of the geography of gaming, Newzoo's report highlights the continued rise of gaming in China. The Far East powerhouse is "expected to generate $27.5 billion, or one-quarter of all revenues in 2017," with the booming popularity of smartphones in China driving much of the income.
Newzoo identify The Rest of Asia (essentially, Asia without Japan, China and Korea included) as the region likely to grow fastest in the years up to 2020, more than doubling the 2016 revenue figure of $4.5 billion to $10.5 billion in 2020.
All told, the report is good news for the games industry. With 2.2 billion gamers worldwide and growth in the Far East, there should be plenty of opportunities available for investors, retailers and wholesalers in the coming years.