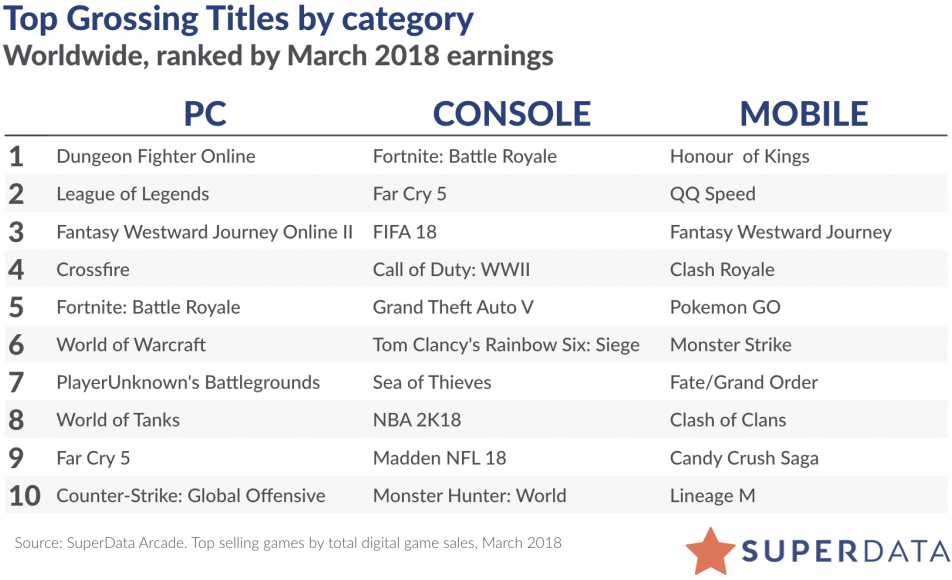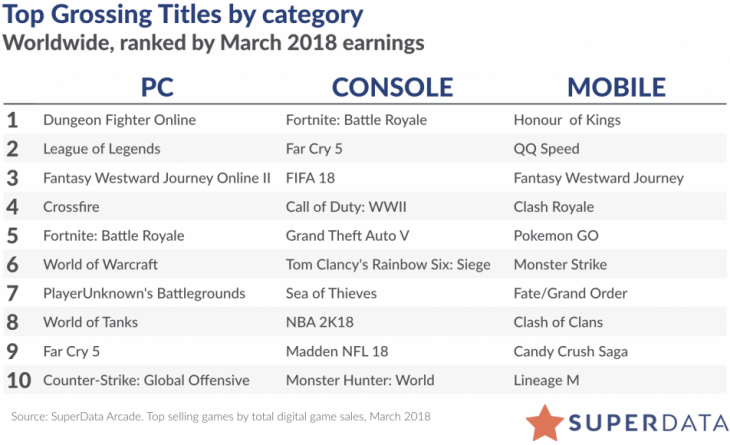 SuperData have released their report for the digital games market for March 2018, showing, among other things, that Fortnite has grown to become the largest free-to-play console game of all time.
SuperData are calling Fortnite a phenomena and it's easy to see why. The game generated $223 million over the course of March 2018 across all platforms, which includes mobile, PC, and consoles. March's revenue is an increase of 73 percent on February 2018, which can be attributed to the popular streamer, Ninja, who ended up playing with Drake, as well as a new season for the game and a John Wick skin.
During the month worldwide digital spending grew to $8.9 billion, up 2 percent from March last year which saw spending of $8.7 billion. While there were declines in the free-to-play PC and Social markets, the console market spending managed to offset it with its increase this year.
Dungeon Hunter Online was the free-to-play PC game with the highest revenue generated in March. This is thanks in part to the third anniversary event held in-game which challenged players to earn special rewards by leveling up new characters.
QQ Speed, the mobile racing game from Tencent continued to perform well in March, generating $100 million in revenue which now makes three months in a row. Fortnite's mobile version rose to be the number one mobile game in the US in terms of revenue generated.
Elsewhere in the month Far Cry 5 experienced a huge launch month, selling 2.5 million digital units across all available platforms. The digital launch of the game was up 500 percent compared to the previous main entry to the series, Far Cry Primal. This not only shows the increasing popularity of the Far Cry series, but also the growing trend towards gamers buying more AAA games digitally.
During March Sea of Thieves had 1.7 million active monthly users on console, and on PC there were 283,000. However, most of these users gained access to the game through the Xbox Games Pass, meaning they don't count for actual digital purchases, and because of this the future of the game is still uncertain.
Candy Crush had the most successful month in March 2018 since 2014. The game, from King, has been showing double-digit growth year-on-year since the middle of 2017.