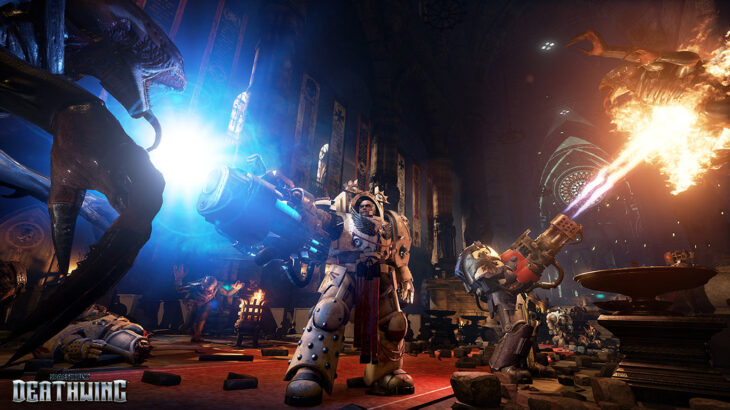 Focus Home Interactive has announced that it has acquired Streum On Studio. The developer is behind Space Hulk: Deathwing, a Warhammer 40,000-branded first-person shooter, as well as Necromunda: Hired Gun.
Deathwing has sold almost 1 million copies to date, going on sale in 2016. Hired Gun on the other hand won't be out until June 1 but has been announced for PC, PlayStation, and Xbox.
Focus Home Interactive is funding this acquisition with dedicated merger and acquisition bank lines. While the amount has not been disclosed, it's known that there are extra bonus incentives for long-term goals. This will see Streum On Studio benefit from hitting deadlines and selling a certain number of units most likely.
Christophe Nobileau, President for Focus Home Interactive, explained in a statement that this acquisition further shows the company's desires to acquire new skilled teams of individuals who have made their mark in the industry by creating beloved titles that are known to be technically impressive.
In the case of Streum On Studio specifically, Nobileau added that the studio has demonstrated prowess in creating fantastic shooter titles. These critically acclaimed products are what Focus Home Interactive intends to have the studio working on for years to come.
Streum On Studio may not be the only company joining Focus Home Interactive in the short term. The publisher's most recent financial report suggested that a number of acquisitions are being investigated by the newly established acquisitions team.
The publisher's sales for the year ending March 31, 2021, topped €171 million ($206 million), which sees revenues rising by 20 percent year-on-year. Fourth-quarter revenues were up by 23 percent at €29.6 million ($35.6 million).
The company's back catalog of titles is proving to provide a steady stream of sales. Some, such as Snowrunner, have taken off in an unexpected way thanks to mods or a community fostering the title. Other games, such as World War Z and A Plague Tale: Innocence, have dedicated fan bases that won't let the game die, and are growing all the time.
Again and again, Focus Home Interactive has proven that it knows which games will sell well, even if it's over a long period of time. This acquisition will probably be no different.