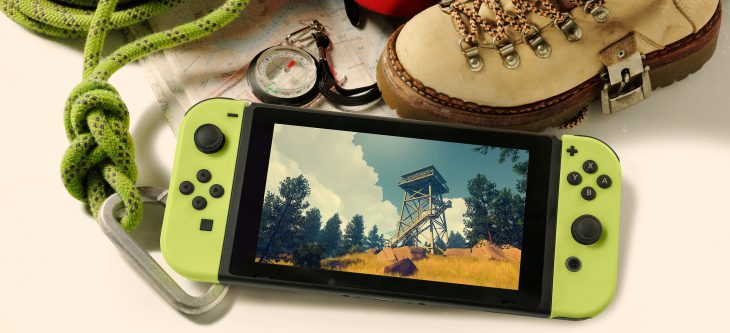 Campo Santo, developers of Firewatch, announced on their website that their hit indie title will be coming to Nintendo Switch soon. While no release date has been confirmed the studio say that the game should release at some point this spring on the hybrid handheld.
Firewatch was Campo Santo's first title and released in 2016 for PC and PlayStation 4. The game also released for Xbox One later that same year, receiving high praise from fans and critics across all platforms. The game was a huge success as far as the studio were concerned, selling 1 million copies in the first year on sale.
Campo Santo have given no details on how the game may or may not differ on Nintendo Switch. Given the unique capabilities open to the developer such as the tablet's touch screen, or the Joy Con Controller motion detection, there are ways in which players could interact with the game using more than simple button presses. For Campo Santo this port is 100% about getting outdoors with a game about the outdoors, reminding gamers that there's a world to explore out there that's just as full of natural beauty as the one they created for Firewatch is.
A Firewatch movie is also apparently being produced by horror movie company Good Universe. The company has produced popular and positively reviewed films such as Don't Breathe, and Last Vegas in the past.
Firewatch is set in 1989, putting players in the shoes of Henry, voiced by Richard Sommer of Mad Men. Henry is escaping his troubled past by becoming a fire lookout in the Wyoming wilderness, working with the other lookouts to monitor and prevent forest fires. Henry encounters Delilah, voiced by Cissy Jones, via his walkie-talkie, and it's up to the player as to how much their relationship develops and what themes they explore in both Henry's and Delilah's pasts.
In The Valley Of Gods is the next title Campo Santo are currently working on, announced at The Game Awards in December 2017. While the game is a long way from release, with a release window of 2019, it looks to be just as intriguing and enjoyable as Firewatch has been for so many players.