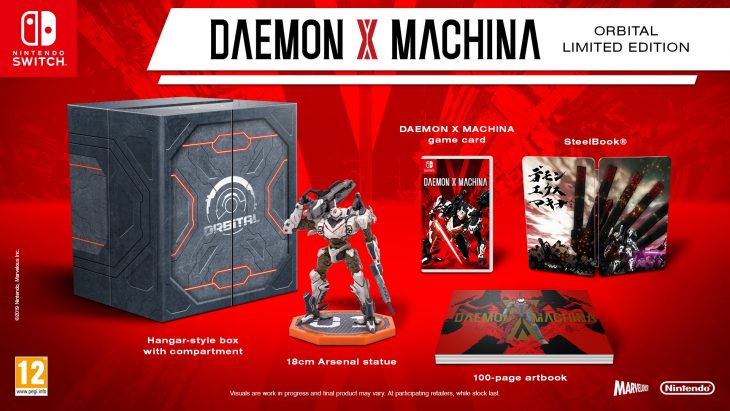 The official Nintendo Store website has recently added a new product listing for DAEMON X MACHINA, the Orbital Limited Edition. The new edition is reported to only be available in the Australian and European territories.
At the time of writing the product link on Nintendo's website doesn't go to a page where the Orbital Limited Edition can be pre-ordered, though it is possible to view the details of exactly what comes with this edition. Currently the base game is available for pre-order at £49.99, which could indicate that the Orbital Limited Edition will be priced around the £100 mark.
DAEMON X MACHINA Orbital Limited Edition comes with the base game in a premium box, a steelbook case, a 100 page artbook, and an 18cm Arsenal statue, a model of the machines from the game. The premium box has special panels that open in order to display the Arsenal statue without the need to remove it from the box.
DAEMON X MACHINA is scheduled to release on the 13th of September 2019 for Nintendo Switch. The game is exclusive to the console, and has had a demo available on the Nintendo eShop for some time now, giving fans the chance to experience what the game will entail.
In DAEMON X MACHINA players will step into the roles of Arsenals, huge machines that are capable of equipping and using not only massive blades, but a number of projectile-based weapons as well. The game is a sci-fi title that appears to build upon the genre established by the Armour Core games, giving players a massive amount of power, but containing it in a single location that needs to be mastered to be used effectively.
Recently DAEMON X MACHINA's developers, MARVELOUS!, released an update video detailing changes they have made to the game based on feedback from those who have played its demo. These changes range from increase initial velocity from flying and boss health meters, to the area in which enemies can be scavenged from and how the game behaves when players go out of mission boundaries.