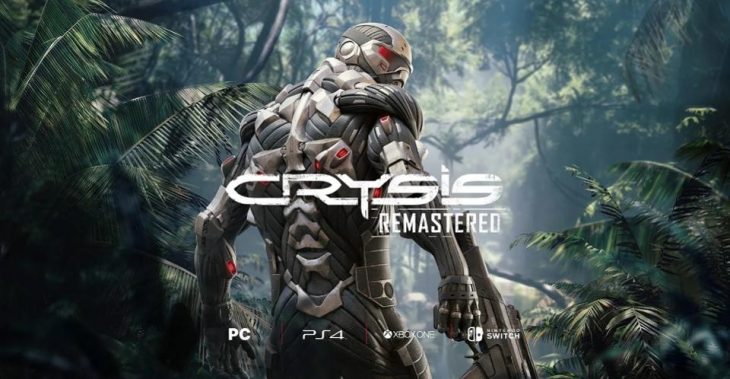 Developer Crytek has officially announced Crysis Remastered. The game will be a full remaster of the original Crysis game, which first launched for PC in 2007.
Early this week the official Crysis Twitter account was teasing an announcement. It simply stated that information was being received, and the Crysis community quickly picked it up as a remaster announcement. Despite the lack of evidence, this is a game that has been requested for a very long time.
Sure enough, Crysis Remastered was announced a few days later. The game will be a complete remaster of Crysis for modern consoles and PC. The game will also be coming to Nintendo Switch, bringing the Crysis series to a portable platform for the very first time.
When Crysis first launched for PC, it wasn't an incredibly well known game. Those who played it enjoyed it, but most people remained unaware of it until the launch of Crysis 2. The game's sequel was what raised the series' reputation to triple A, making them some of the best shooter games available.
When Crysis 3 came along, a port of the original Crysis for PlayStation 3 was also released, though at this point in the console lifecycle there were many other competitor games on the market. Unfortunately for Crytek, Crysis 3 didn't innovate on the series' gameplay enough to make it stand out at the time. Since then, very little has been heard about Crysis, with Crytek focusing on developing their CryEngine game engine.
In the Crysis games players take on the role of soldiers who are given access to an incredibly powerful nanosuit. The nanosuit has a built in AI that becomes their AI assistant in battle, but much more than that as well by the end of each campaign.
The key to the Crysis games has always been the upgrade system, allowing for several different ways of playing. The suit could be upgraded to be stronger and more deadly, but this sacrificed stealth abilities. Likewise, it was possible to gear the suit totally towards stealth, allowing a player to sneak through an entire level whilst invisible, avoiding all combat.
While Crysis Remastered doesn't seal the deal that the entire trilogy will be remastered for current consoles, it's a step in the right direction for those who want that.