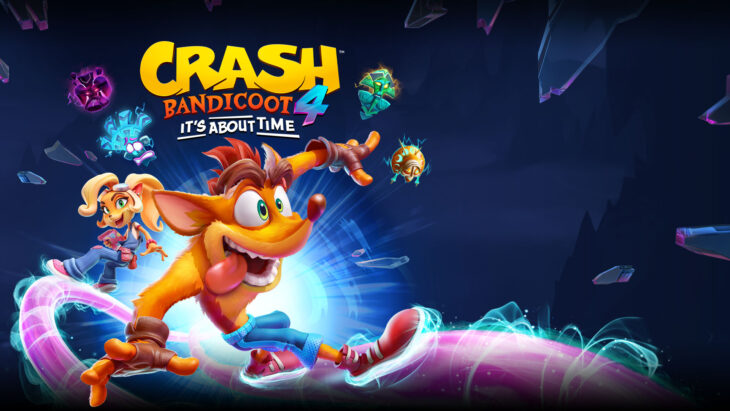 Only 1,000 sales are between Crash Bandicoot 4: It's About Time and EA's Star Wars: Squadrons this week. However, Activision's latest numbered entry to the Crash franchise comes out on top.
Crash Bandicoot 4: It's About Time comes after the huge success of Crash Bandicoot N.Sane Trilogy, the remake release of each of the first three games in the series. It also follows the success of Crash Team Racing: Nitro-Fueled, which is still a popular remake played across all platforms.
However, the latest entry is a completely unique and new numbered title, developed by Toys For Bob. While it does stick close to the classic formula of the series, it's very much a game in its own right, and players seem to be responding well to it.
While the sales for Crash Bandicoot 4: It's About Time is 80 percent lower than those of Crash Bandicoot N.Sane Trilogy, it's likely that far more have been purchased digitally. PlayStation 4 saw the majority of physical sales at 82 percent, with the rest being for Xbox One. While a Nintendo Switch version isn't out yet, it may come in the future considering the success of the remakes on the platform.
This week's second place is Star Wars: Squadrons, which is still a phenomenal game. The game puts players in the seat of pilots in the Star Wars universe, but that doesn't seem to have interested players as much as the last game, Star Wars Jedi: Fallen Order. Sales are 72 percent lower at launch than the previous title, though again many more of them may now be digital. This latest game is also aiming for a budget audience who are interested in the flight simulation aspect of the universe, rather than going for the wider appeal of Jedi and shooting.
Star Wars: Squadrons sold best on PlayStation 4, with 68 percent of all copies sold for the platform. The PlayStation 4 version supports PlayStation VR, which may be the reason for this preference among buyers.
The only other new game in the UK chart is Untitled Goose Game, which saw a physical release debut in thirty-fourth place. This drops alongside the game's co-op update, which has already been of massive appeal with fans.
Super Mario 3D All-Stars falls to third place with sales down by 23 percent week-on-week. Marvel's Avengers is also pushed down from second to fifth, though sales are only down by 20 percent week-on-week.
Last week's new entries, Mafia: Definitive Edition, and Mafia Trilogy, have dropped to ninth and tenth respectively, with sales down by 57 percent and 40 percent each week-on-week.
The top ten best-selling games for the week ending October 3, 2020: