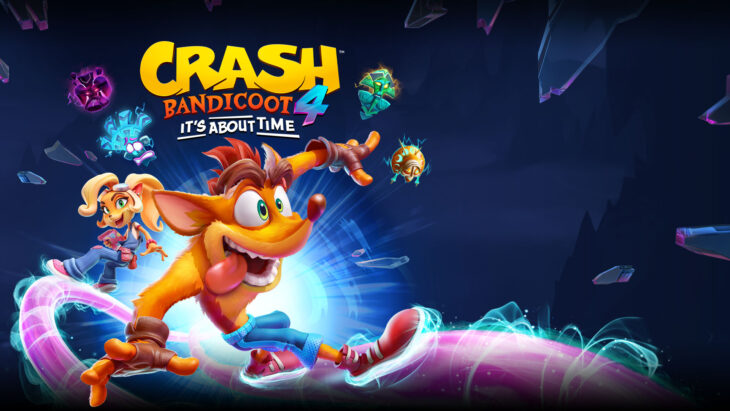 Today the fourth numbered entry in the Crash Bandicoot series launches for PlayStation 4 and Xbox One. Crash Bandicoot 4: It's About Time is the first numbered sequel in the series for over a decade, and fans are ready to eat it up.
The game is set directly after the events of Crash Bandicoot 3: Warped. It sees Crash and Coco traveling through various dimensions in order to save the world once again. Along the way they'll encounter new masks, providing brand new powers for players to master.
Unlike past mainline Crash games, this fourth numbered entry has multiplayer. Up to four players can compete in various game modes, including time trials, checkpoint races, and point-scoring runs.
This adds a new depth to the gameplay that has never been seen before in this series. Usually players enjoy replaying levels in order to earn everything and complete it to 100%, but now there's a brand new layer of content to master.
Every single level in the game has also been enhanced with a form of mirror mode. This applies a new filter to the level, making it appear different to the standard version. Each filter also applies new game rules to the level.
Whilst a single mission might simply require players to get from start to finish, the mirror mode could have some very different goals. For example one goal in a mirror mode is to color the level using paint that the protagonists splash when they spin. At the start, the level is blank, and characters will fall through it if they don't cover it in paint.
Another mirror mode submerges the level in water, applying all sorts of wacky physics to go with the new setting.
It seems as though publisher Activision was unsure of how successful the game would be. It's only available at retail as a standard edition for $59.99/£54.99 across both platforms. These physical editions sometimes include various bonus items, but these change depending on the retailer. While there's no word yet on a Switch or PC version, they can't be too far away.
This is by far the biggest mainline Crash game the market has seen, and it's one that players will spend hundreds of hours in before they've seen everything.