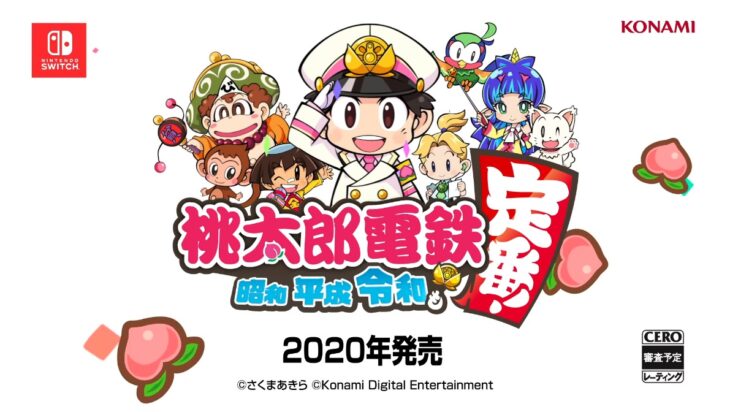 The popularity of the Switch has always been easy to see in Japan's game sales chart. However, this week we were surprised to see that Momotaro Dentetsu: Showa, Heisei, Reiwa mo Teiban! tops the chart, not the new Zelda game, as reported by Famitsu.
Momotaro Dentetsu: Showa, Heisei, Reiwa mo Teiban! is a tycoon game in which players try to become the biggest property holder in Japan. It's great for quick gaming sessions, and is easy to pick up and play from where you left off, perfect for the Switch.
The second new entry in Japan's chart is, of course, Hyrule Warriors: Age of Calamity. The game is slated as the prequel to The Legend of Zelda: Breath of the Wild, and has actually shifted 3 million units in the first three days of being on sale. 173,215 of those units were in Japan, but that wasn't enough to beat the colossal sales of Momotaro Dentetsu: Showa, Heisei, Reiwa mo Teiban! with 345,697 units sold.
Animal Crossing: New Horizons is in third place in the chart, moving up one from last week. The game's winter update is clearly still drawing in players, though how long this will last remains to be seen.
Ring Fit Adventure is still gaining popularity, moving up one place to fifth this week. With people still looking for the best way to keep fit indoors, there's very little else on the market that offers a fitness combination for your games console.
The third new entry to this week's chart is Fortnite: The Last Laugh Bundle. The bundle packages together in-game currency and cosmetic items, perfect for anyone who wants to get the DC-themed content guaranteed.
The only PlayStation 4 game in the chart this week is Call of Duty: Black Ops Cold War in sixth. The game has dropped five places, but it's still holding firm.
The rest of the chart shows Pikmin 3 Deluxe in seventh, Mario Kart 8 Deluxe in eighth, Super Mario Party in ninth, and Pokemon Sword and Shield + Expansion Pass in tenth place.
Over the next week there could be some changes to the chart with Black Friday sales. Though these may be restricted to the Nintendo Switch with the console's popularity in the region. The lack of PlayStation 5 and Xbox games shows a clear preference, though that has been evident for the past year.
The top ten best-selling games in Japan for the week ending November 22, 2020 were as follows.
Last
Week
This
Week
Title
New Entry.
1.
Momotaro Dentetsu: Showa, Heisei, Reiwa mo Teiban! (Switch)
New Entry.
2.
Hyrule Warriors: Age of Calamity (Switch)
4.
3.
Animal Crossing: New Horizons (Switch)
6.
4.
Ring Fit Adventure (Switch)
New Entry.
5.
Fortnite: The Last Laugh Bundle (Switch)
1.
6.
Call of Duty: Black Ops Cold War (PS4)
5.
7.
Pikmin 3 Deluxe (Nintendo Switch)
Re-entry.
8.
Mario Kart 8 Deluxe (Switch)
Re-entry.
9.
Super Mario Party (Switch)
Re-entry.
10.
Pokemon Sword and Shield + Expansion Pass (Switch)