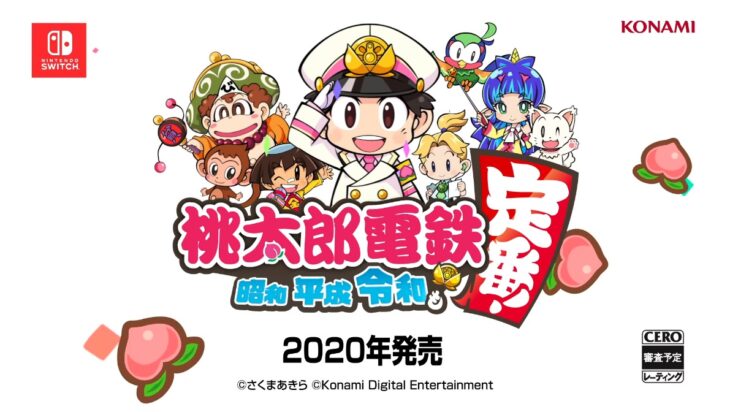 The Japanese game sales chart by Famitsu for the final week before Christmas shows that Momotaro Dentetsu: Showa, Heisei, Reiwa mo Teiban! On Nintendo Switch is the best-selling game for yet another consecutive week.
In second place, with half the number of sales as the best-seller, is Animal Crossing: New Horizons. The game's Christmas event has been spurring more and more players into buying it, but not enough to help it become the Christmas number one.
Ring Fit Adventure is up another place this week in third. The game is clearly a desirable gift, though how well these sales will stabilise after the holiday period is questionable. It could see a surge thanks to new year's resolutions, or fall down the chart and out entirely.
Mario Kart 8 Deluxe is also up by one place this week. The game continues to sell well, most likely because it is packaged with almost every Nintendo Switch hardware bundle.
Pikmin 3 Deluxe is up one place in fifth. The game seems to be selling fairly well, which has been aided by the holiday update it received in the last couple of weeks.
Minecraft for Nintendo Switch is up by two places this week in sixth. The game is hugely popular with younger Switch players, and will be high up on many children's Christmas present lists.
Super Smash Bros. Ultimate moves up by two places this week as well. The game just had a new character revealed for Sephiroth, which will no doubt spur a new group of players to finally buy it and join in with the action.
Super Mario Party is in eighth, up two places from last week. This could be due to the fact that this is a party game, perfect for playing with large groups over the Christmas period.
In ninth is Super Mario 3D All-Stars, and rounding out the chart is Clubhouse Games: 51 Worldwide Classics. Both games are perfect for players to spend hundreds of hours in with others or alone while spending a rather strange Christmas with limited numbers.
The top ten best-selling games in Japan for the week ending December 20, 2020 were as follows.
Last
Week
This
Week
Title
1.
1.
Momotaro Dentetsu: Showa, Heisei, Reiwa mo Teiban! (Switch)
3.
2.
Animal Crossing: New Horizons (Switch)
4.
3.
Ring Fit Adventure (Switch)
5.
4.
Mario Kart 8 Deluxe (Switch)
6.
5.
Pikmin 3 Deluxe (Switch)
8.
6.
Minecraft (Switch)
9.
7.
Super Smash Bros. Ultimate (Switch)
10.
8.
Super Mario Party (Switch)
Re-entry.
9.
Super Mario 3D All-Stars (Switch)
Re-entry.
10.
Clubhouse Games: 51 Worldwide Classics (Switch)