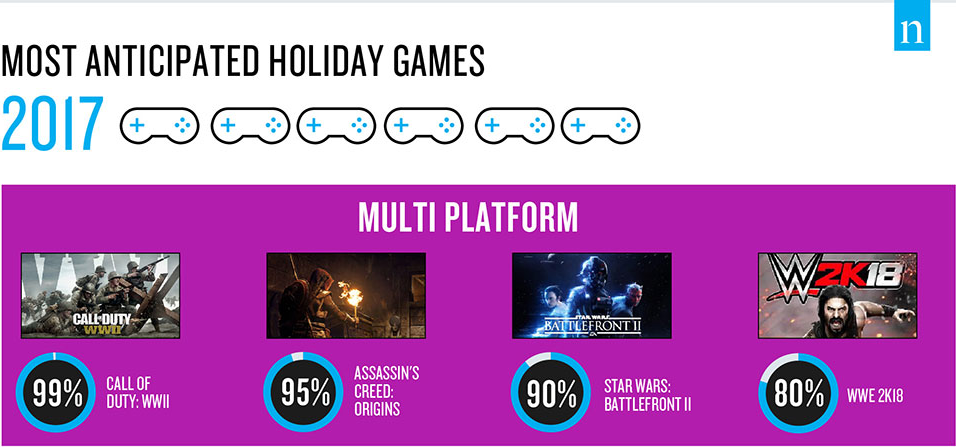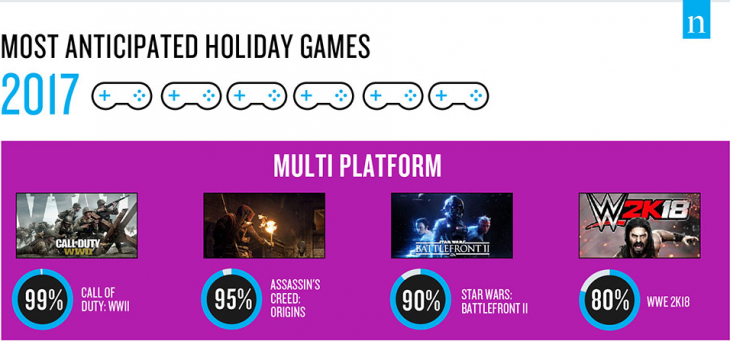 Nielsen Game Rank shows the overall anticipation level over 6,000 active gamers for upcoming releases this holiday season. The games are measured using awareness, consumer rating, and purchase interest, as well other indicators of pre-release anticipation.
There are four major titles that make up the most highly anticipated games for holiday 2017, all of which are multi-platform. WWE 2K18 has 80 percent of gamers eagerly anticipating its release, not surprising given the success of WWE 2K17.
The next most highly anticipated title is Star Wars: Battlefront 2 from EA. With the release of a new Star Wars film in the near future there is already a lot of interest in this game. EA has listened to fan feedback from the last title and have implemented many changes that look to make this the ultimate Star Wars experience on console.
Assassin's Creed Origins, from Ubisoft, has 95 percent of gamers highly anticipating its release. The game is the first in the series to have been given an additional year of development. This has given the developers a chance to create an entirely new Assassin's Creed game, one that strips away a lot of the series' tropes and makes it more accessible to fresh fans.


The most highly anticipated game for holiday 2017 is Activision Blizzard's Call of Duty: World War 2. With the closed beta only just over many fans are keen to play more of Call of Duty's long requested return to the World War 2 setting. The game introduces new systems for online multiplayer as well as the usual rollercoaster campaign and zombies mode, and 99 percent of gamers want to purchase it this Christmas.
On Xbox One Forza Motorsport 7 is the game that has most fans excited to play it with 85 percent, even though it's already out. On Playstation 4 it is Gran Turismo Sport that takes the fan's interest with 85 percent of gamers eager to play it, though this interest may dwindle closer to the time since the game releases next week.
On PC gamers are excited to play Age of Empires: Definitive Edition, Fallout VR, and L.A. Noire the VR Case Files. Two of these games are VR titles, showing that good VR games are outweighing games with lots of nostalgia, at least at this point in time.
The Nintendo Switch's most anticipated game is Super Mario Odyssey, easy to predict given that it's the console's first new 3D Super Mario title. On 3DS the anticipation for titles is slightly more diverse, with Pokemon Moon Ultra having 99 percent and Pokemon Sun Ultra 97 percent gamer anticipation.
There will of course be other titles that gamers are hoping to pick up this holiday season such as The Evil Within 2, a horror title that released just last week. Other games that usually perform well will must also be considered such as Just Dance 2017 and Wolfenstein 2: The New Colossus.