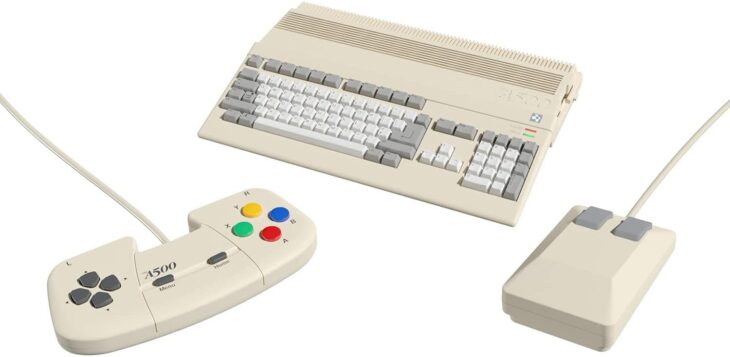 The miniature console trend is far from over. It's now been confirmed that an Amiga 500 mini console will be released in early 2022.
This new mini console is called the A500 Mini, and is based on the Commodore Amiga 500. It's being built by the same company that released the C64 Mini, which was a separate mini console that capitalized on the same trend.
The A500 Mini will launch in early 2022 and costs £119.99/€129.99/$139.99 to pre-order at the moment. Creator Retro Games announced the console this week, and many in the games industry believe it will sell out pretty quickly.
As is the tradition with mini consoles, this one will land in consumer's hands with 25 pre-installed games. Only 12 of these games have been revealed so far. They are as follows:
Alien Breed 3D
Another World
ATR: All Terrain Racing
Battle Chess
Cadaver
Kick Off 2
Pinball Dreams
Simon the Sorcerer
Speedball 2: Brutal Deluxe
The Chaos Engine
Worms: The Director's Cut
Zool
In this list here are some true cult classics such as Worms, Alien Breed 3D, and the critically acclaimed Another World. However, owners will be able to upload their own ROMS to the device via USB, which isn't something mini consoles have allowed so far.
The original console first launched in 1987, and is a fairly large keyboard to look at with no knowledge of the inner workings. Shrinking the console down has, of course, made some of the previous functionality difficult to replicate. For example, the keyboard will not be functional on this device.
A standard keyboard can be plugged in so that the same feel of the original device is retained. Alternatively, players can use the controller and two-button mouse that comes with the device if they want to stick to the intended hardware.
Every Nintendo mini console has sold out, but the PlayStation and C64 mini consoles saw a much slower uptake in sales. It's hard to say whether this console will sell particularly well, though the manufacturers have likely over catered to allow for so much stock that it would be difficult for it to sell out too fast.