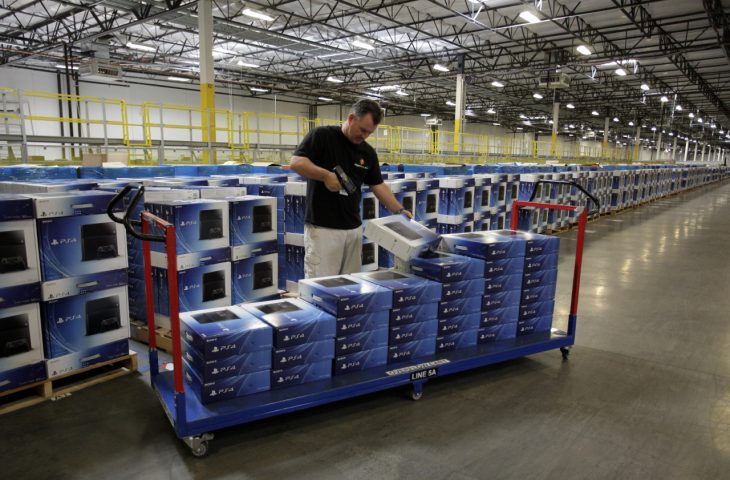 For the first time in history, according to the NPD Group, the current generation of consoles has managed to sell more than 1 million units over the course of a single month.
Thanks entirely to the Black Friday/Cyber Monday holiday sales period, November saw the most consoles sold in a single month ever. Hardware sales usually see a boost for this time period every year, but this year has beaten all previous records. Software sales however haven't seen the same impact, which is mostly down to the change in a release date for this year's biggest title.
Year-on-year gaming sales were pretty much the same at $2.7 billion. Software sales declines actually offset growth elsewhere in the sector, leading to this stagnation. Spending in the segment was up by 16 percent year-on-year at $13.2 billion.
Hardware spending was the true highlight for the gaming segment for the month, with the Nintendo Switch, Xbox One, and PlayStation 4 selling a combined 1.3 million units. This is a new record for total hardware spending in a month, and is up year-on-year by 3 percent at $3.9 billion.
Sales of Nintendo Switch consoles were up so much that they offset a decline in other platforms. Even with a decline in sales though the PlayStation 4 is still the top console in terms of sales year-to-date.
Accessory and Game Card spending, which was a massive driver for growth this year, has seen an increase in year-on-year spending to $503 million, a rise of 35 percent.
Dollar sales of gaming software have actually fallen by 15 percent year-on-year. This is attributed to the shift in this year's Call of Duty title's release date. Usually the games would release in early November, but the release date was brought forward to avoid competition with Red Dead Redemption 2. Year-to-date software sales are currently at $5.8 billion, which makes 2017-18 the highest comparable year-to-date-total since the same time period in 2011.
Red Dead Redemption 2 has become the second best-selling game of the year so far, with Call of Duty: Black Ops 4 just ahead of it. This year's Call of Duty has become the second fastest-selling game for PlayStation 4 and Xbox One in history, with Call of Duty: WW2 just beating it.
Fallout 76, despite a post-launch reception filled with contempt, is the fourth best-selling game of November. Pokemon Let's Go Pikachu is the fifth best-selling, and Pokemon Let's Go Eevee is the sixth. Launch sales for Pokemon Let's Go Pikachu during launch month were the second-highest the franchise has ever seen, just behind the Nintendo 64 release Pokemon Stadium.
Spyro Reignited Trilogy is the ninth best-selling game of the month, with sales 30 percent higher than the combined sales at launch for every Spyro game when they originally released, including Skylanders.
The top 10 best-selling games for November 2018 (digital and physical) are as follows.
1. Red Dead Redemption 2
2. Call of Duty: Black Ops 4 (not including PC sales)
3. Battlefield 5 (not including PC sales)
4. Fallout 76 (not including digital sales)
5. Pokemon Let's Go Pikachu (not including digital sales)
6. Pokemon Let's Go Eevee (not including digital sales)
7. NBA2K19
8. Madden NFL 19 (not including PC sales)
9. Spyro Reignited Trilogy
10. FIFA 19 (not including PC sales)