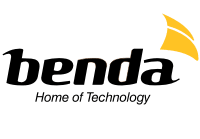 Benda is a major distributor of computers, peripheral, electronics, and video game consoles in Israel. It is an official distributor of Xbox. The company was created in 1982 by Mordechai Ben-David.
Benda Magnetic Ltd.
Offices: 1st Computer st.Industrial Zone Poleg,
Netanya
Israel
---
Mail delivery address:
Ha'mesik 13
Emek Hefer Industrial Park.
Warehouse:
Alexander River Street 15
Emek Hefer Industrial Park
---
Phone: +972 (0)732-660-699, +972 (0)732-660-619
Fax: +972 (0)732-660-640, +972 (0)732-660-610
Email: info@benda.co.il
Website: http://www.benda.co.il