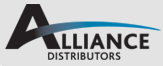 Alliance Distributors Holding Inc. (ADTR.PK) is a major wholesale distributor of video games, video game hardware, and accessories. It has direct buying relationships with many major publishers and manufacturers, such as Electronic Arts ("EA"), Warner Bros. Interactive Entertainment ("WB"), Take-Two Interactive Software ("Take-Two"), and Vivendi. Alliance Distributors has a large inventory with over 5000 SKU's in its stock list.
The main offices are located in NYC, and the company has warehouse facilities and sales offices in Miami, Florida. It also has three warehouse and fulfillment facilities in New Jersey and another facility close to the Los Angeles and Long Beach ports through partnership. Alliance Distributors Holding Inc. is incorporated in Delaware.
Metaversal Studios, the software development arm of Alliance is located in Brighton, MA.
Alliance Distributors
127W 26th St. Ste. 904
New York, NY 10001
United States
Steve Gelman
VP Marketing/Communications
Phone: +1 212-894-4750
E-mail: steve@alliancedis.com
Website: http://alliancedistributors.com/