Company Type: Developer
Founded: 1996
Number of Employees: 200
Country: Belgium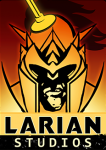 Larian Studios is a developer of video games based in Belgium. It was founded in 1996 by Swen Vincke. The studio currently has 5 offices worldwide and employs over 200 people. The developer is best known for Divinity series and Baldur's Gate 3.
---
Larian Studios
Opgeëistenlaan 2,
9000 Gent,
Belgium
Email: info@larian.com
Website: https://larian.com/
---
Profiles and Links:
---
Key People
---
Related Games
---
Related News
Read all related news...
---